To monitor the amount of lice in an aquaculture facility and determine when to initiate countermeasures, regular counts are done in all salmon cages. In this project we seek to develop an automatic lice counter that will give better and faster measurements with less manual work for the fish farmers. The measurement will be based on machine vision, and we envision a unit that can be placed in a fish cage to continuously gather data on the amount of lice on the passing fish.
The project will last for two years. In the initial phase we will do laboratory studies to test different technologies for lice counting.
Based on the results from the initial tests we will choose the technology to use for the counter. The concept will be tested both in the laboratory and in full scale at Marine Harvest and Lerøy farms.
The main aim of the project is to develop a measurement concept for automatic identification and counting of small (stationary) and large (mobile and adult) stages of salmon lice on salmon in fish farms. This will give fish farmers better control, and enable more precise and targeted countermeasures against salmon lice.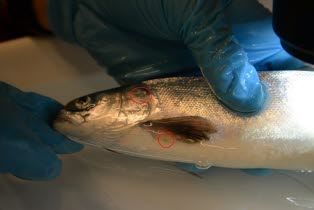 Salmon with lice. We can see two lice within the circle on the gill cover, and one within the circle by the pectoral fin. Photo: SINTEF
About Storvik Aqua
Storvik Aqua is a leading provider of sustainable products and solutions for the aquaculture industry in Norway and globally, with subsidiaries in Chile and Scotland. The company provides equipment and solutions both for land based facilities and offshore farms. The range of products is wide, with main focus on feeding tehnology, biomass estimation, environmental monitoring and oxygen systems.
For more information about products and solutions: www.storvikaqua.no