In traditionally production of forged aluminum products, it is very common to use more steps and tools before the final product has got its geometric shape as shown in the figure underneath. It is an energy-intensive process that also provides great material losses, or "flash". Casting and forging processes are currently used separately and the products have great variety in applications (such as the automotive and aerospace).
In the CastForge-process, several process steps are removed to save energy and cost. The idea of the process is that the work piece has to be made near the press where the forging will take place. In this way you can forge while the metal is still hot, and the energy form the casting process can be utilized. The interconnection of these processes in one CastForge-process is technically very interesting, in addition to reduction of material wastage and reduced energy consumption.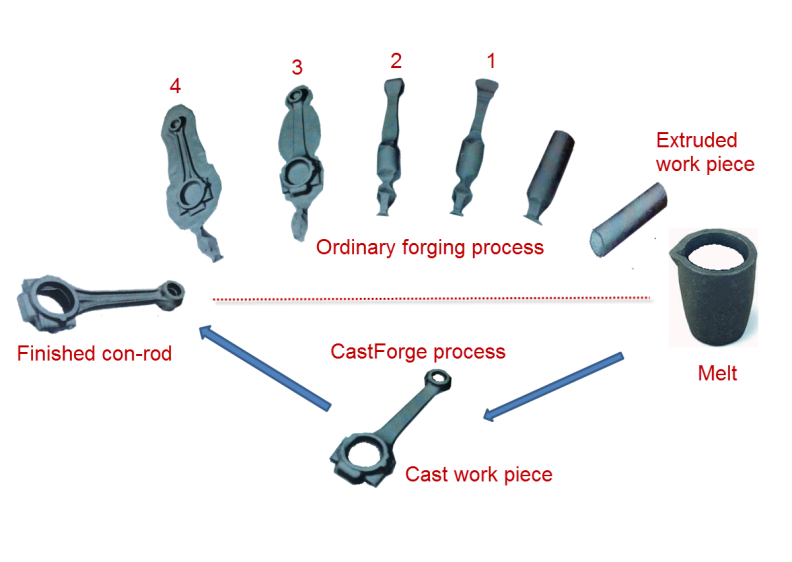 The project is carried out in close cooperation between Farsund Aluminium Casting AS - A Benteler Automotive Company (foundry), Raufoss Technology AS (forging company), Scania (car manufacturer), SINTEF Raufoss Manufacturing AS and SINTEF Materials and Chemistry (research).
The budget is 14.5 million in four years. The Research Council supports the project by 35% through the RENERGIX program. The rest is financed by the participating companies.
The cooperation between the partners on R & D activities is essential to achieve the goal since none of them have the necessary skills alone. SINTEF are contributing greatly on knowledge and with an integrated casting and forming laboratory.
The project will start by carrying out CastForge-experiments in SINTEF laboratories after simulation of the casting process and the forging process. By using simulation, it is possible to obtain data for tool construction. After the laboratory experiments, the process will be tested by the participating companies. The manufactured components will then undergo various mechanical testing in addition to investigation of the microstructures.