A lifetime of 40,000 hours, if defined as the time elapsed until 10 % of the initial voltage is lost, is equivalent with an average voltage decay rate of 1.5μV/h. To establish this lifetime within the 26,000 hours of a three years project advanced materials research and development will be combined with models and accelerated tests.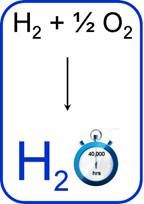 SINTEF's main role in this project is to conduct degradation investigations by accelerated stress tests (AST) of full scale cells. The characterization will be assisted by ex-situ experiments on both catalyst and membrane materials. An iterative approach is planned by performing at least 3 cycles of improvements and further improvement of AST protocols and parameters.
Financing from FCH JU, SINTEF's activity is co-financed by Research Council of Norway through the RENERGI-program.
Hosting organisation: NEDSTACK FUEL CELL TECHNOLOGY BV.