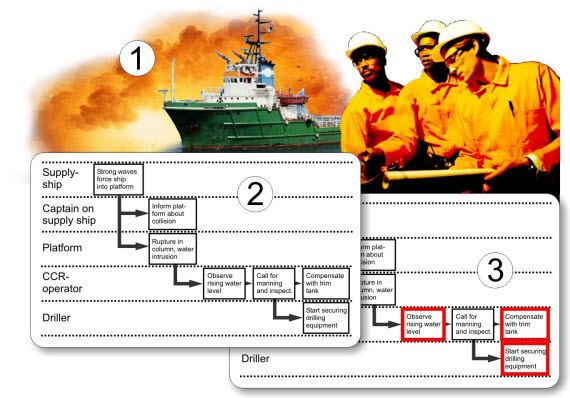 The network has been established by SINTEF collaboration with STATOIL, IFE, DnV and HCD, see www.hfc.sintef.no. The network is meeting twice a year.
The purpose of the network is to support research, development, teaching, and implementation of relevant methods supporting safety, resilience and human factors. The results from the meeting, articles, methods and relevant curriculum are presented at www.hfc.sintef.no.
Participants in the meetings have been ABB, ConocoPhillips, DnV - Det Norske Veritas, ENI Norge, Høgskolen i Haugesund, HCD - Human Centred Design, HFS - Human Factor Solutions, Hms Design og utvikling, IFE, Viju, NTNU, National Oilwell, Petroleumstilsynet, Siemens Oil and Gas, Scandpower, SINTEF, UiO and UiS.
Key note speakers have been Prof. Erik Hollnagel, Prof. M. Grabowski, Dr. John Wood, Dr. Phil Duffey, Prof. Patrick Hudson, Prof. Sidney Dekker, Prof. M. Rosen, Prof. N. Stanton, Prof Morten Lind, Dr. J.E. Vinnem, Prof K. Mearns, Prof G.A. Jamieson, Dr. R. Boring, Dr. D. Lucas and R. Miles.
Dissemination and publications from the forum has been done through PhD theses and publication in international conferences or journals.
The main areas of interest have been:
Team dynamics in critical situations – Crew Resource Management
Safety analysis and major accidents - how to include human and organisational elements
Human Factors in an international perspective
Human Factors in plant design, operations and maintenance
Visualization and interfaces
Human and organizational factors in accident investigations
Future operations and control systems
Collaboration in distributed teams
Experiences from collaboration rooms - MTO collaboration in distributed teams
Human Factors in remote operations and learning from errors
Best HF pratices in control rooms and Integrated Operations
The HFC forum was initiated in 2004 and conducts meetings twice a year. There has been extensive international collaboration between the participants in the network.