The interest in autonomous vessels for a variety of purposes, such as passenger transport, cargo transport, ferries, search and rescue missions and tugboats, has increased in recent years. Autonomous vessels can be programmed to perform complex tasks and will contribute to increased safety, better cargo flow and sustainable growth and will also constitute a competitive advantage for Norway as a maritime nation.
One of the most comprehensive demonstrations of autonomous vessel operations in Norwegian waters took place in May as part of the EU project AUTOSHIP, in which SINTEF is a partner: The fish feed carrier Eidsvaag Pioner, which has been equipped with new technology developed by the project, undertook a 160-nautical mile round trip between Averøya and Ocean Farm 1, situated in Frohavet to the north of Frøya.
The same technology can be used both at sea and in waterways
During the 13-hour journey, a number of different features were demonstrated, such as automatic docking to and from the quay at the factory, automatic navigation along the coast between islands and other waterborne traffic, monitoring from the remote-control centre in Ålesund and remote control by the captain from the control centre.
The AUTOSHIP project launched in 2019 and is a partnership between Kongsberg Gruppen, SINTEF and Eidsvaag, as well as a number of international partners.
The demonstration using Eidsvaag Pioner was not the only thing to happen recently. Another demonstration of remote-controlled and autonomous operations under the auspices of the project took place just outside Antwerp in Belgium this May, using the Zulu 04 barge, which demonstrated several automated and remote-controlled operations in a challenging test zone consisting of a number of locks in a canal and a tidal river.
The benefits of autonomous technology are about to be realised
The two demonstrations mark an important milestone, not only for AUTOSHIP but for anyone working on autonomy in the maritime industry and in the European network of inland waterways. They are clear examples that technology such as situational awareness, autonomous navigation, intelligent machinery control, remote control and communication and cyber security solutions are approaching the commercialisation stage for certain applications. This is especially true for small, dedicated liners carrying a steady flow of goods.
"Not only do the demonstrations show that the technology is approaching the commercialisation stage for certain applications, they also demonstrate that the advantages users can achieve by adopting autonomous technology in shipping are available options even now and should be considered for new maritime logistics and transport solutions," says Lars Andreas Wennersberg, researcher at SINTEF Ocean.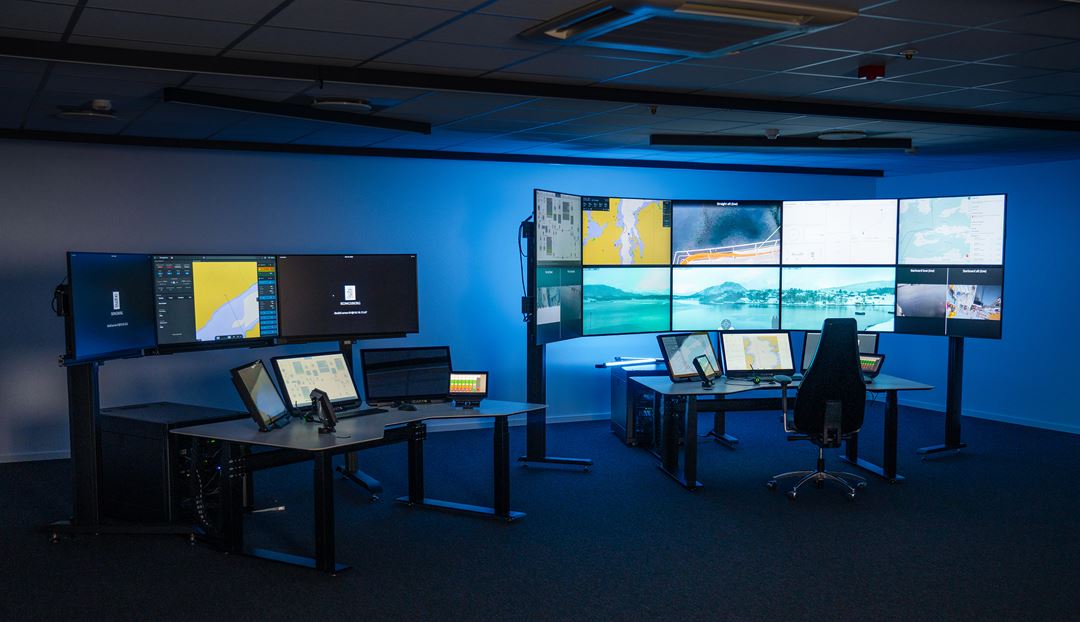 Photo: KONGSBERG/Martin Giskegjerde
New autonomy demonstrations are paving the way for regulatory development and new research into autonomous ships
The AUTOSHIP demonstration also serves as an excellent example of what could technically be achieved when the Maritime Safety Committee of the International Maritime Organisation (IMO) continues its regulatory developments for autonomous ships through MSC107
"One of the main challenges facing the industry and the IMO is to establish a common conceptual framework and vocabulary for autonomous ships that ensures that precise communication can be established across the industry. This is something SINTEF Ocean and its partners focused greatly on in the development of a design standard for autonomous ships," says Lars Andreas Lien Wennersberg.
SINTEF Ocean delivered an update on the state of the technology, as well as professional advice for the regulatory developments in the IMO through the results achieved in AUTOSHIP, as well as the EU project AEGIS, at a dedicated input seminar held on Tuesday 30 May.
Continued need for research and innovation
Through the research undertaken in AUTOSHIP, a few main items have been identified for the industry to focus on in order to also commercialise and upscale the use of autonomous technology in other areas, such as short sea and deep sea shipping, as well as being able to move from remote control to limited autonomy:
Physical and digital interfaces between vessels, ports and terminals, for example exchange of cargo documentation and systems for cargo handling.
Standardisation, for example for interfaces and communication between autonomous ships and remote control centres in order to enable vessels to switch between different control centres.
Logistics concepts and business models that use autonomous ships.
Methods for development, documentation and analysis of autonomous ships and logistics systems with regard to safety, finance and impact on society as a whole.
SINTEF continues to conduct research into autonomy, including through the Horizon Europe projects ReNEW and SEAMLESS.