"This is an extremely important project", says Terje Søviknes, the Norwegian Minister of Petroleum and Energy. "We're seeing an innovative industry and our already world-leading maritime sector coming together to create a whole new chapter in Norwegian maritime history. In a global context, this could be the start of something really big", he says.
Final design unveiled
The final design for the vessel was unveiled recently in front of a large audience of media representatives at SINTEF's Ocean Laboratory. The vessel model is designed by the company Marin Teknikk in Sunnmøre, and in the coming weeks it will be undergoing a series of thorough tests.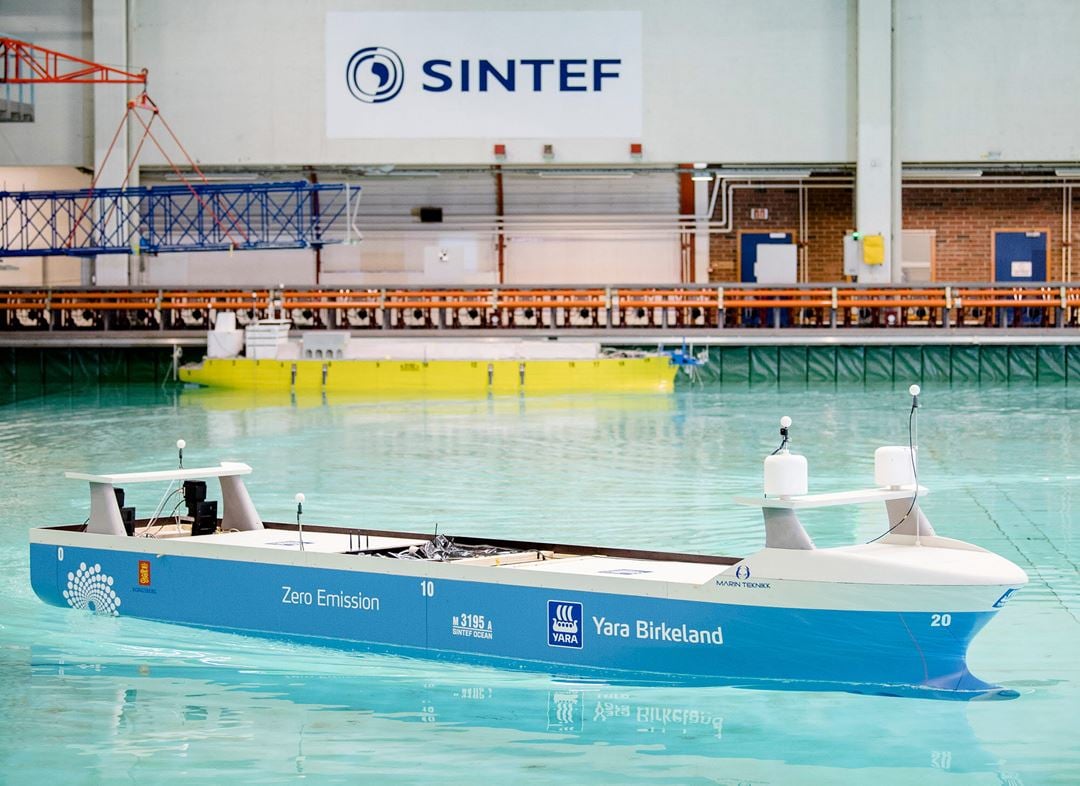 "Results show that the vessel has a very low hull resistance", says Hans Jørgen Rambech, who is a Senior Researcher and Project Manager at SINTEF Ocean. "It will be both efficient to run and environmentally-friendly. We will now be conducting further tests and it will be exciting to see if the results under wave conditions are as good as those following the tests in calm waters", he says.
Funding from Enova
Fertiliser manufacturers Yara will be constructing the ship as a means of transporting their product from the company's production facility in Porsgrunn to the container ports at Brevik and Larvik.
"This new battery-driven container vessel will enable us to move the transport of our fertilisers from the roads to the sea, thus cutting out our annual 40,000 diesel-driven haulage trips", says Yara's CEO Svein Tore Holsether. "In this way we will reduce noise pollution and our impact on climate change, and at the same time improve safety on local roads", he says.
The potential environmental benefits of this major investment are so promising that Enova has recently decided to provide NOK 133 million in funding for the project.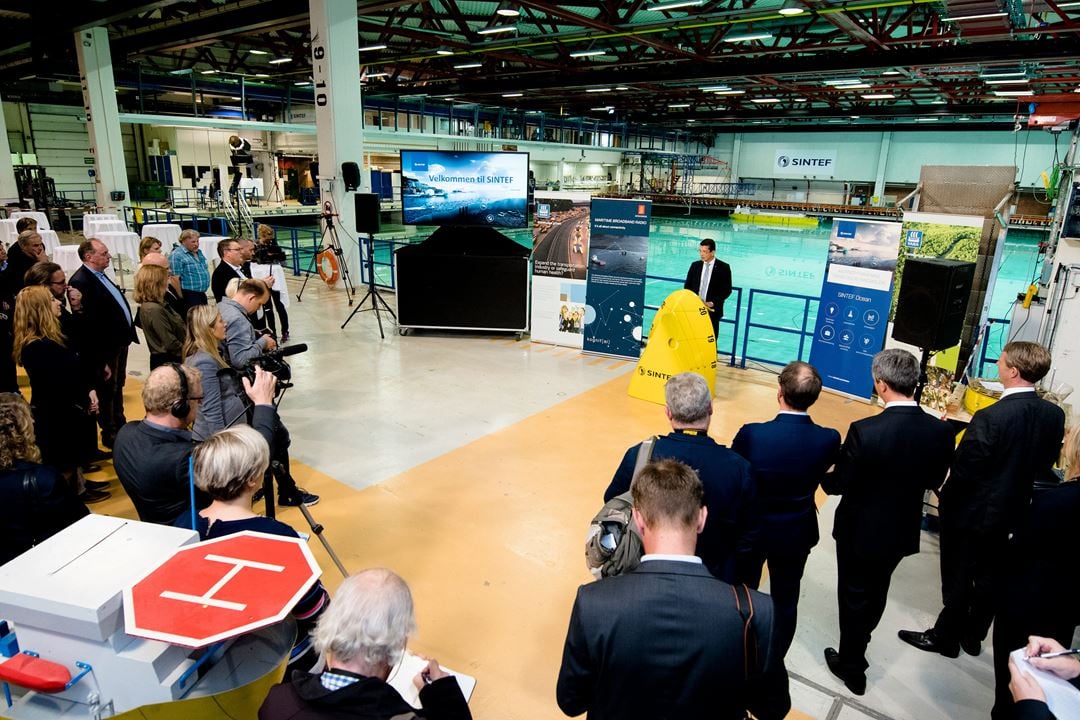 "There is currently great interest in autonomous transport, but there are also many sceptics who question whether it is practicable, or even safe", says Nils Kristian Nakstad, who is Managing Director at Enova. "The most important contribution that this project will make is to demonstrate that battery-driven, autonomous marine goods transport is feasible, and that it provides the benefits we want to see", he says.
Yara will probably be spending about NOK 400 million on the development and construction of the vessel. As well as the assistance it is getting from researchers at SINTEF, Yara is working closely with Kongsberg, which boasts extensive expertise in autonomous systems. Kongsberg anticipates that many challenges will have to be resolved in the months to come.
Technological challenges
"A lot of things have to fall into place", says Geir Håøy, CEO at Kongsberg. "It will be technologically challenging to bring everything seamlessly together in a situation where we are using sensorics that have not necessarily been applied previously in the merchant shipping sector", he says. "And we still don't know what regulatory framework will apply to autonomous vessels. This may provide us with some exciting challenges", says Håøy.
The Minister sees a lot of positives if Norway wins the race to be the world-leader in autonomous shipping.
"It will provide us with entirely new opportunities for transferring goods transport from the road network to the sea", says Søviknes. "It also gives us an opportunity to guarantee wealth generation in the maritime sector for decades to come and, of course, an opportunity to cut CO2 emissions and participate in the global effort that is essential if we are to achieve a low-emissions society by 2050", concludes the Minister.