No fewer than 519 pupils and 51 teachers from 30 high schools took part in this year's nationwide Ocean Space Race ship design competition. Never before has the competition had so many participants, who compete in the categories for best model ship, vessel design, wind turbine design and open-class marine design. This year, four boys from Blindern High School went to the top of the class.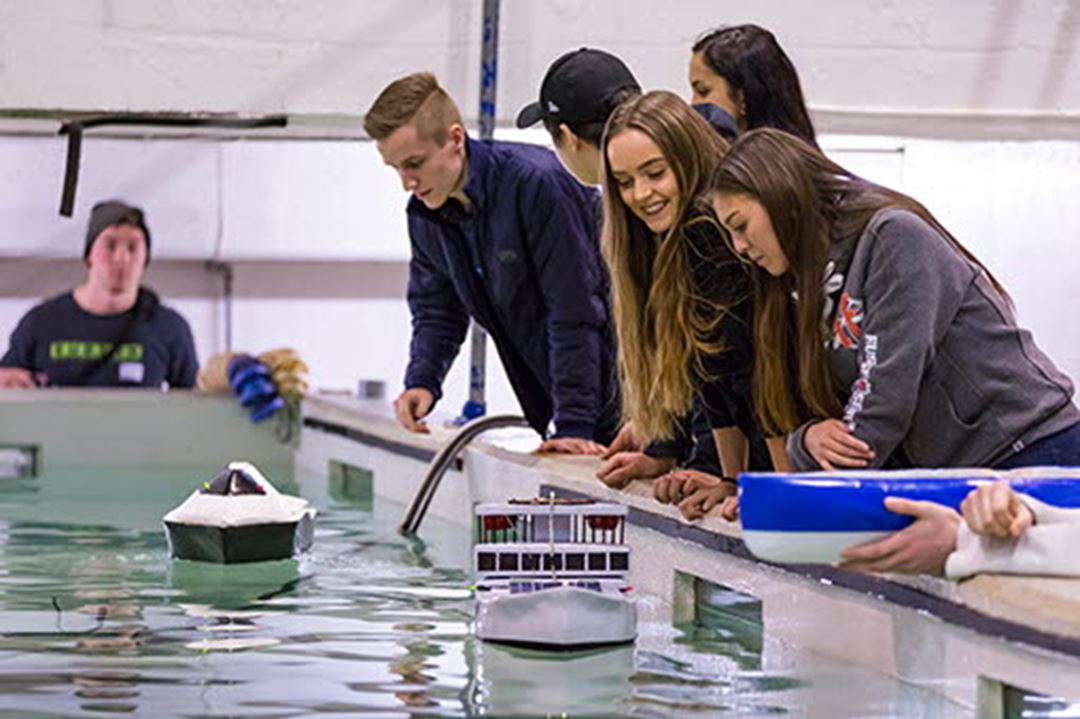 "How does it feel to win the first prize overall?"
"Right now, it feels quite fantastic; it was incredibly good to win," says Lars Bihaug-Frøyland.
"This was really something," adds Gjermund Bae.
"What did you enjoy most about the competition?"
"Seeing our boat coming first over the finishing line in the final was pretty cool."
The quartet from Oslo had worked on their ship model for four months.
"I'm sorry that it's all over, but the whole thing was great fun," says Bae.
"Maybe you will become a naval architect?"
"Yes, I might. I'll certainly have to think about it, now that we have won the competition", he adds.
Technology studies at school
The models were designed and built as part of the school class on "Technology and Research". The Marine Cooperation Forum, MARINTEK (which forms part of the SINTEF Group) and NTNU jointly organise the competition, and the aim of "Technology and Research", and of course the competition, is to increase interest in science in general and ocean space technology in particular. All the high-school pupils spent two days in Trondheim, where they were shown round NTNU, tested their vessels in MARINTEK's Ship Model Tank, (which is one of the biggest in the world) and listened to talks given by experts from the marine sector.
This is applied science, taught in a way that you don't otherwise meet at high-school level. A lot of applied physics and problem-solving are involved," says Jan Alfred Sandven, science teacher at Blindern High School.
Schools from all over Norway participated in this year's Ocean Space Race. One veteran team, from Ulstein in the County of Møre og Romsdal, has taken part for nine successive years.
All of Lars and Gjermund's classmates also went on the trip to Trondheim, and since they went off with the first prize, there was no point in waiting to celebrate.
"We are going to Egon Pizzeria to sample their buffet. It will be great to celebrate with the whole class," concludes Lars Bihaug-Frøyland with the broad smile of a winner.
"We learn how to design vessels and carry out practical tests on them. Since we live in a part of the country that builds a lot of ships, it is very interesting to learn just how this is done," says Magnar Sunde, who teaches at Ulstein High School.