For the very first time it will be possible to study three-phase (oil-gas-water) flows in the large scale flow loop at Tiller outside Trondheim (only oil and gas before). At the same time IFE at Kjeller near Oslo can invest in new advanced instrumentation to study multiphase flow in greater detail in their laboratory. The upgrades are necessary to keep up in validation of new sophisticated multiphase pipe flow models and simulators. These tools are very important in the design and operation of oil and gas installations.
With this, SINTEF and IFE also starts the planning of the Joint Industry Project 'MultiFlow JIP' – the most extensive experimental campaign in these laboratories since the 1990's. With support from several of the major oil companies world-wide the consortium will again lay the foundation for increased resource exploitation and value creation within the petroleum industry.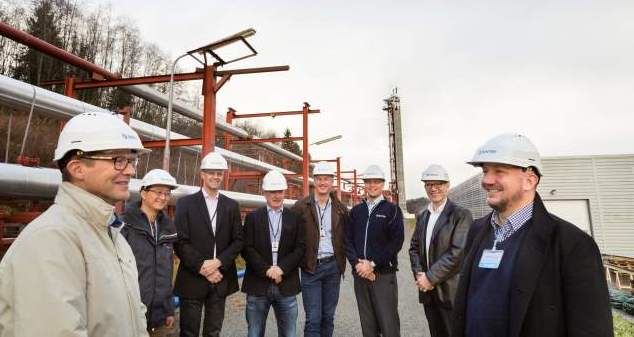 From left Jon Harald Kaspersen (SINTEF), Zhilin Yang (Statoil), Lars Sørum (SINTEF), Torstein Haarberg (SINTEF), Bjørnar Hauknes Pettersen (Statoil), Christian Brekken (SINTEF), Tore Gimse (IFE) and Johan Kristian Sveen (IFE). Photo: Thor Nielsen.
By Christian Brekken