A short while ago, the Macedonian entrepreneur Viktor Petkov opened a brand-new vegetable-processing facility: 10,000 refurbished – and partly newly built – square metres.

SINTEF researcher Lars Skjelstad was a specially invited guest of honour at the opening ceremony.

With the support of funding from the Norwegian Foreign Ministry, Skjelstad and his SINTEF colleague Torbjørn Netland designed the internal logistics and organisation of the new factory's production equipment.


Favourite food in the Balkans

In small premises in the Macedonian city of Gevgelija, near the border with Greece, Petkov started industrial production of a traditional and highly prized component of the Balkan diet – Ajvar; a mixture of pickled vegetables whose principal ingredient is roasted sun-ripened bell peppers.


SINTEF researcher Lars Skjelstad (right) was a specially invited guest of honour when entrepreneur Viktor Petkov opened the new vegetable-processing facility. All photos: Angel Nestorov
The pickle is eaten both as an accompaniment to meat dishes and in the form of a spread. Older generations in the former Yugoslavia have a long tradition of preparing the popular dish at home.

For the past 15 years, Petkov has been successfully supplying jars of this pasteurised product to later generations, who cannot find time to prepare food from scratch. His customers come from all parts of the former Yugoslavia, and from among emigrants in many other parts of the world.


Chicken farm transformed

Ten years ago, with funding from the Norwegian Foreign Ministry, Petkov received help from SINTEF, in the person of Lars Skjelstad, to modernise the original plant.
Five years later, SINTEF and the Foreign Ministry became his partners in a new project. At that time, the active businessman had bought the buildings on a chicken farm that had gone bankrupt. He wanted to move his production there, eight kilometres outside the city: no sooner said than done.

Based on solutions that SINTEF's Skjelstad and Netland developed in the course of the new project, Petkov has now transformed the old farm. The result is a plant which, according to Skjelstad, has become "one of the most modern and flexible factories in the Macedonian food industry."


Praise and thanks

Petkov is generous with his praise when he speaks of the results of the project. In an email to www.sintef.no, he writes:

"We have received fantastic help from SINTEF. On the basis of the needs we expressed, Lars and Torbjørn worked out a solution that impressed us – and still does. It took fully into account the areas, buildings and internal roads that we had, and managed to adapt these to a modern project that ideally suits our concept."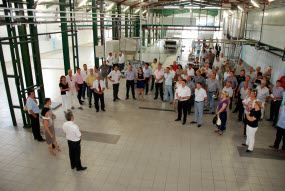 A large number of guests were present at the opening ceremony.
Researcher also impressed
But the admiration is mutual. Project manager Skjelstad doesn't hide the fact that he is impressed by the rate of progress made by Petkov in his industrial development projects.

"He has been successful on three levels: first, he has realised a personal dream by building up an expanding family business. Secondly, he has created jobs that are essential in this region. During the season when the vegetables are ripening, he will have a total of 90 employees in the new plant, based on three round-the-clock shifts. In the third place, he has set a standard for all of Macedonia, by showing that it is possible to establish new industrial activity outside Skopje, the capital."


Volume and profitability
Skjelstad also confesses that he is professionally rather proud of the solution that he and Torbjørn Netland hatched out in the course of the Macedonia project.
"The chicken farm consisted of ten separate long buildings. We decided to let the flow of production run through the whole complex across this building structure, by building wings that link the individual buildings. The alternative would have been to build separate departments, which would have had to transport their partially finished products from building to building."
"With our solution, the company benefits by having a greater flow of goods per unit time through the plant, which leaves it with a greater production volume and improved profitability. We also laid weight on dividing the plant into clean and non-clean zones, in order to enable the owner to achieve his goal of having the plant certified to the standards required of the food industry."


Help towards independence
"You are from a research institute. Is what you have been doing in Macedonia any different from what a consultancy could have done?

"Yes it is, and in two ways. First, we have made use of several types of expertise in each of the sub-projects. We put together a team of experts from several different disciplines, including researchers from here and students from Skopje. The ability to go into a project with multidisciplinary groups is precisely one of the strengths of SINTEF."
"Secondly, we have placed great emphasis on giving the factory owner a thorough introduction into our way of thinking and analysing things, so that he will be able to develop his company in the future without being dependent on us."


Innovation in new plant
For his part, Viktor Petkov is full of plans to produce more than just his traditional product in his new facility; ideas include vegetable juice and, in due course, ready meals.
According to Skjelstad, the latter would fit hand in glove with what the textbooks say about value adding, because ready meals also satisfy a service need; "We don't need to make it ourselves".
"As customers, we are willing to pay more for a service than for a physical product. Needs of this sort can be met via mass-produced customising, and that is what Viktor Petkov intends to do," says SINTEF researcher Lars Skjelstad.

Text: Svein Tønseth