The project is being financed by the Research Council of Norway (80 per cent) and Hydro itself (20 per cent).
SINTEF/NTNU and Hydro are collaborating on the project with materials science groups at Toyama University and the Tokyo Institute of Technology.
The project centres on quantifying how the properties of aluminium products are influenced by tiny amounts of foreign matter in their atomic structure. The calculations involved are based on nano-scale observations.


Nano-strategy

Trond Furu, senior advisor in Hydro's Corporate Technology Office, explains:

"By adding a tiny amount of another element to molten aluminium and controlling the way in which its atoms bind and diffuse in the course of a series of process steps, we can adapt the properties of the metal to a specific application in a given end-product.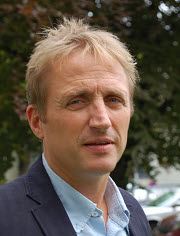 Hydro's Trond Furu is very pleased about the link with Japan that his company has gained through the bilateral project. Photo: Svein Tønseth
Better knowledge within this area in turn offers us the prospect of new products in which aluminium can replace heavier metals, with the benefits to the environment that this implies, in vehicles for example.

Small amounts of other elements can have significant effects on the properties of alloys, as well as on the processing costs of individual products. Phenomena of this sort are also important in aluminium recycling."

Furu adds that the expertise of SINTEF/NTNU and Hydro in this field has been underlined in the Norwegian government's new strategic plan for nanotechnology research and development.


Strong Japanese traditions

Observations made by means of transmission electron microscopy (TEM) play a key role in the Norwegian-Japanese competence development project.

"Japan has strong traditions in TEM, but physics groups at SINTEF/NTNU are also world leaders in this discipline, so as far as we are concerned, this project is a sort of "benchmarking" process. Cooperating with our Japanese colleagues also gives us access to scientific equipment in Japan that we lack here," says Furu.

"For us, it is also important that Japan has a high level of activity and long traditions in the automotive industry, including component development. This project lets us know more about what is being developed over there, and of course we have taken the opportunity to spread the word about aluminium."


Doctorates

Graduate students Sigurd Wenner and Takeshi Saito are taking their doctorates at NTNU as part of the Norwegian-Japanese cooperative project, which is led by NTNU Professor Randi Holmestad.

Calin Daniel Mariora of SINTEF Materials and Chemistry is responsible for SINTEF's part of the project.
By Svein Tønseth