by Svein Tønseth
Several years ago, aluminium components started to be used in larger private car designs. Now they are beginning to appear in smaller cars as well.
Parts for suspension systems are among the more important automotive applications for aluminium. Today, many of these parts are kneaded into shape by means of forging in order to give them the required mechanical properties, a sure way to turn up the "energy taximeter".
Now, Norwegian materials technologists aim to meet these quality requirements via an alternative, energy-conserving manufacturing process.
"Our calculations show that this solution can save a good quarter of the energy used today," says SINTEF senior scientist Syvertsen, adding: "If we succeed, the method could also be used to produce other safety-critical aluminium vehicle components."

The best of both worlds
The recipe is a combination of casting and forging. The method is based on an idea from SINTEF Materials and Chemistry, and it is currently being tested out by SINTEF and the Norwegian companies Raufoss Technology and Farsund Aluminium Casting in a four-year collaborative project.
"We are taking the best from both worlds," says Syvertsen.
"Casting enables us to produce pieces in complex geometrical shapes, while forging produces the deformations that many safety-critical vehicle components need if they are to possess the correct mechanical characteristics."
The project has now reached its half-way point. So far, the method has been tested on the laboratory scale. During the next two years, the partners will carry out industrial-scale tests. Scania AB in Sweden is also a member of the project as an end-user of forged components.

Risky project
SINTEF's industry partner Raufoss Technology operates three factories on three continents, all of which produce forged suspension components.
Development manager Axel Kolsgaard of Raufoss Technology believes that the project has great potential, while emphasising that it involves technological risks.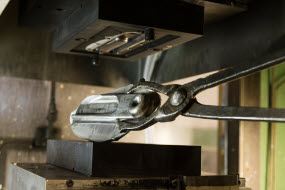 The forged product is ejected from the forging tool and lifted out. Photo: SINTEF/Thor Nielsen
"Traditional forging takes a lot of energy and work. If the project is successful, we can save a great deal of energy and labour costs. Moreover, the environment will win because energy consumption is reduced. If we can get this technology to work, we will also be able to produce parts with more complex shapes than we can today."
Farsund Aluminium Casting (FAC), the project's other industry partner, is also fired up by the idea of "cast-forge" (see illustration).
A successful project will open up a completely new market for us," says research and development manager Jan Ove Løland.