Every day the world's population consumes 32 million meals made of seafood from Norway. However, on their way to the consumer these Norwegian products have first been transported to low-cost countries such as China or in Eastern Europe for filleting and packaging.
Meanwhile whitefish processing facilities in Norway are becoming fewer and fewer. In the last 40 years, the number of such plants has been reduced from 100 to just 10.

Researchers at SINTEF Fisheries and Aquaculture aim to reverse this trend. Their vision is to automate work-intensive processes, starting with hauling fish on board the vessels right through to processing and packing ready for the consumer.
What's the problem?
"Norway exports only between 10 to 25 per cent processed products, depending on whether we are talking about whitefish or farmed fish", says Research Manager Marit Aursand at SINTEF Fisheries and Aquaculture.

"Many of our most important seafood products, such as salmon, cod and herring, undergo only minimal processing before they are sent abroad. In other words, Norway has a great opportunity to increase its fish processing capacity", she says.
Together with her colleagues, Aursand works closely with the industry and is often out on visits to aquaculture facilities or on board fishing vessels.
"Increased profits in the processing sector will generate growth among the coastal communities, and is in line with the government's ambition to see Norway become the leading seafood nation in the world", says Aursand. "We have already started developing the technologies and machines which will make fish handling less work-intensive", she says. She gestures along the room where we stand talking.
Facts:
In 2012 Norway exported seafood products
worth NOK 51.6 billion.
39 per cent of these exports came from
wild fish stocks and 61 per cent from aquaculture.
We exported a total of about 2.3 million tonnes
of seafood in 2012
In the period 1996 – 2008, jobs in the traditional
filleting companies were reduced by 70%.

Machine vision replaces human sight
Here we find a robot which can both bleed farmed fish and trim the fillets. With just a few quick key touches on a computer, the cutting knife can automatically be guided both up and down and from side to side. The technology behind the bleeding robot is already in use, and the researchers are working to commercialise a number of similar concepts.
Another example is machine vision. In a fish processing facility, workers on the production line use their sight both to find a fish's bleeding point prior to slaughter, and the position of a fillet's belly flap before cutting.

"However, robots have problems because they cannot see", says researcher Ekrem Misimi. "This is why we have developed so-called machine vision by which advanced camera technology and pattern recognition are used to analyse each fish as it passes along the line", he says.
Machine vision can assess whether the fish on the production line is a cod or a saithe. Is the fish damaged? The images even make it possible to compute the fishes' weight in grammes so that they can be sorted automatically into weight classes. Is it a large or small, or medium-sized fish?

No more work-intensive operations
Automation can lead to major savings when it comes to manually-intensive operations such as bone removal and trimming. For example, machine vision can be used in almost all processes carried out in onshore facilities – from slaughtering, sorting, bone removal and filleting, to portioning and packing.
Another way of enhancing end-product quality is to improve the management of the processes taking place in a fish processing facility. Because better management gives us a complete picture of the raw materials available, the production/processing line, and the demands of the market, it enables the production volumes of some products to be better tailored to consumer and market needs.
SINTEF researchers have also initiated projects linked to operations at sea. Their ambition is to automate the immediate handling of fish on board vessels. Machine vision is also the key technology here.

New skills needed
Higher levels of automation demand new skills in the fish processing industry. Factory facilities will need to employ fewer people, but new jobs will be created among equipment suppliers and in the service sector.
"In the future, the demand for machine engineers and IT personnel will be greater than for traditional factory workers", says Aursand. "But the key factor is that overall levels of wealth generation in the Norwegian marine foodstuffs sector will increase", she says.

She believes that if the current situation continues, we risk the entire disappearance of any wealth generation from the fish processing industry.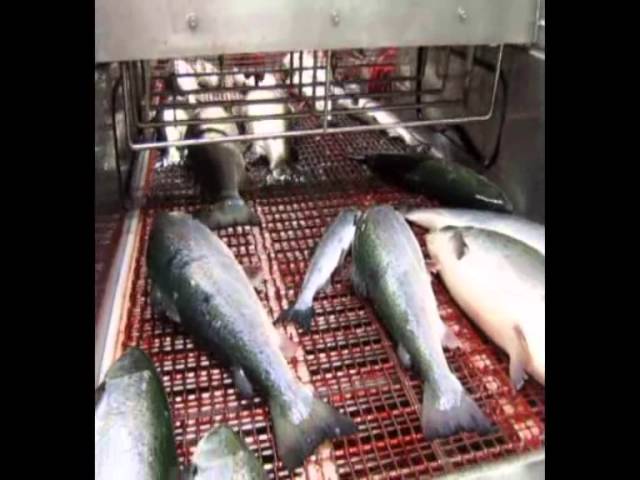 SINTEFs robot for fillet trimming and fish bleeding.

Making the most of the whole fish
A bonus resulting from the increased handling of raw fish in Norway will be that the processing industry will have greater access to waste raw materials. For this reason researchers believe that any modernisation within the fish processing sector must be based on full utilisation of the raw fish resource.

"Waste raw materials make up between 30 and 50 per cent of round fish mass and represent a significant source of protein, unsaturated fats and biochemicals – with added economic value", says Aursand. "Other marine species such as krill and copepods may also become important ingredients both as a source of feedstuffs and food for humans", she says.

Money on the table
When will automation reach a level which makes fish processing as economic in Norway as it is in low-cost countries? SINTEF researchers say that this all depends on the political will within the Norwegian research community.

They believe there is a need for an intensification of research into new processes, automation, and technologies linked to robotics, sensors and image processing.

One thing is certain – there is an urgent need to boost profitability within the industry.

"The industry acknowledges the need for automation, and we researchers are ready to meet the challenges", says Marit Aursand. "It all depends on funding. Politicians must put their money where their mouths are", she says.
By Unni Skoglund