In a bilateral project financed by Norway's Foreign Ministry, which is represented by the Norwegian Embassy in Pretoria, SINTEF ICT is partnered by its own spin-off company GasSecure.
These two groups are behind the sensor technology that the South Africans are interested in.

Underground wireless communication

With its roots in SINTEF research, GasSecure has developed a sensor that can be used to detect leakages of explosive hydrocarbon gases such as methane, on offshore platforms.
In collaboration with South African scientists and industry, the Norwegian participants in the project will investigate and test a specially developed version of GasSecure's sensor, with the aim of finding out whether it can also be used to detect hydrocarbons in mine galleries and thus raise safety levels in the industry.
One important aspect of the project will be to study the ability of such sensor systems to operate in a mining environment without the use of wires or cables.


"Interesting country for cooperation"

The project has been given the name WIGAMI – Wireless Gas Sensing in Mines, and it will run until the end of 2013. Special adviser Trond Bakken of SINTEF ICT says that the Institute regards this collaboration with South Africa as interesting, not least in a long-term perspective.

"In conversations with the authorities and research groups there, SINTEF's way of doing contract-based research aroused a great deal of interest. South Africa is keen to access better technology. This first collaborative project is a matter both of strengthening local partners and of raising safety levels in an industry that is vital to the country's economy," says Bakken.
South African mining includes the production of gold, diamonds and platinum.

Local partners
Local partners in this bilateral project include the South African Council for Scientific and Industrial Research (CSIR), the University of Pretoria and Tellumat, a manufacturer of communications and navigation equipment.

By Svein Tønseth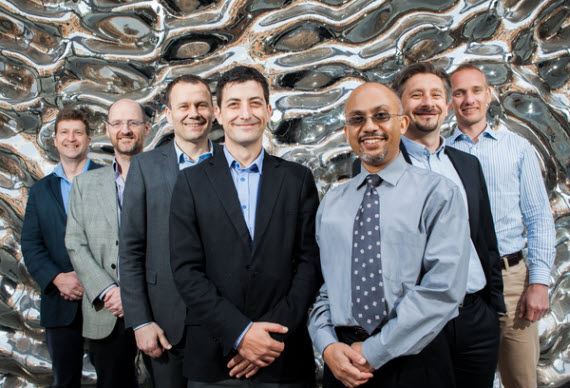 Gathered in Oslo to discuss co-operation. Dag T Wang, Niels Aakvaag and Trond Bakken (all of them from SINTEF), Dominik Schulte (Tellumat), John Isaac (CSIR), Fabrice Lapique (SINTEF) and Knut Sandven (GasSecure). Photo: SINTEF / Werner Juvik