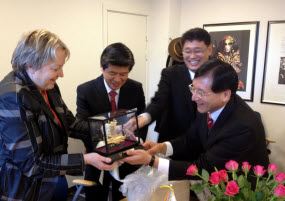 KITECH President Kyoung-Hwan Na brought SINTEF a gilded model of a "turtle ship" as a present. These were the world's first armoured vessels, which helped the Koreans to repel a Japanese invasion fleet around the end of the 16th century. The Koreans regard these as the start of their long national tradition of high-quality shipbuilding. Photo: SINTEF/Roar Larsen
An oil-well never produces oil alone. The well-flow also includes gas, plus a steadily increasing percentage of water. The simultaneous transportation of all three components in the same pipeline is known as multiphase transport.
In the course of the past couple of decades, multiphase technology has permitted the development of a number of fields for which a platform-based solution would have been too costly.

The Institute for Energy Technology and SINTEF share much of the honour for the development of this technology.
"Norway's most important invention since 1980."

The research on which the two institutes have been collaborating since the 1980s has made it possible to design and operate multiphase pipeline systems on the seabed.

The technology that emerged from their research was recently voted by the Norwegian daily Aftenposten as Norway's most important invention since 1980.

At Tiller, just outside Trondheim, SINTEF operates a 1000 metre-long, 8" diameter, steel pipeline loop – the largest laboratory for multiphase experimentation in the world.

In Korea, the publicly-owned KITECH is currently planning to build a 4" diameter, 120 m-long laboratory loop.
Will complement one another

"These two laboratory facilities will complement one another," explains chief scientist Roar Larsen of SINTEF's multiphase laboratory.
"Although the Korean facility will be smaller than ours, it will have a feature that ours lacks, in that it will be fitted with a refrigeration system that will allow the pipeline to be cooled to temperatures similar to those on the seabed."

"This will give us more complete laboratory data, and we therefore expect that project cooperation with KITECH will be extremely interesting," says Larsen.
Other fields

The Koreans tend to be very open to the idea of cooperating with leading institutions in other countries, and they have also expressed their desire to see the MoU extended to cover mutually advantageous projects in a number of other fields.

By Svein Tønseth