- We have started the development of catch-limiting solutions for floating trawl and have come a long way. Prototype tests we have done are very promising, say the researchers Eduardo Grimaldo and Manu Sistiaga at SINTEF Fisheries and Aquaculture.
High density
The backdrop for this work is that it can easily be made too large hauls, both by fishing with floating trawl and seines. High fish density allows for large quantities of fish entering the trawl in a few minutes. This has proved difficult to control even with a lot of electronic monitoring on the trawl.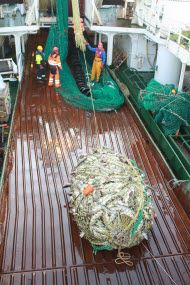 From SINTEF's research cruise in the Barents Sea: Trawl bag, with three tonnes of fish, which is closed and detached from the trawl. (Photo: Manu Sistiaga, SINTEF)
Splits the trawl
- We have come a long way with two different solutions, which utilize the same active principle. The concepts are based on a trawl bag that closes and partially detaches from the main portion of the the trawl when it has been filled with a certain amount of fish. In this way, the fish that is left in the trawl bellows, will be released unharmed from the trawl, while the closed end is hanging behind, explains Grimaldo and Sistiaga.
Arguments for reopening
The problems associated with large individual catches, has been one of the arguments against re-opening of the Norwegian northern areas for fishing with floating trawl. North of 62 ° N, the floating trawl fishery for groundfish has been banned for the past 30 years.
- In parallel with the new technology we have developed for capture limitations, we also tested selective systems for size sorting in floating trawl. Both are important in light of the arguments from the trawling industry and the authorities about being able to switch to more energy efficient trawling in the north without adverse effects on the bottom flora and fauna, says the SINTEF scientists.
Both solution variants are tested during research cruises in collaboration with Roger B. Larsen (University of Tromsø) in the Barents Sea earlier this year.
- Optimization and further research are needed before reach our common goal, but the challenges that remains are certainly possible to overcome, says the SINTEF scientists Eduardo Grimaldo and Manu Sistiaga