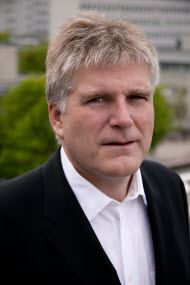 Nils Røkke is Vice-president, CCS at SINTEF, and he heads the newly established Nordic Centre of Expertise
While the field so far has focused primarily on the power sector, CO2 capture from industry is also a key area for the new NORDICCS centre; so is the development of an atlas for CO2 storage in the Nordic countries.

"How can CO2 be captured most efficiently from large point sources in the Nordic countries? And what is the potential for underground storage of CO2 in the five Nordic countries? The Centre will launch and carry out a series of studies to answer precisely these questions," says Nils A. Røkke, who will lead the NORDICCS Centre.

Røkke is Vice-president, CCS at SINTEF in Norway, the largest independent research organization in Scandinavia.

Virtual centre
NORDICCS is a virtual centre that draws on existing expertise on CO2 sequestration (Carbon Capture and Storage, CCS) in research institutes, universities and industry in the Nordic countries. The Centre possesses expertise in the capture, transport and geological storage of CO2.

SINTEF Energy Research is the project owner, and the centre has been established by Nordic Innovation, which reports to the Nordic Council of Ministers. At its launch, Nordic Innovation made a grant of NOK 35 million to the centre.


This is NORDICCS

The NORDICCS Centre has been set up initially as a four-year project.



Research and development partners

:

Norway:
SINTEF Energy Research, SINTEF Petroleum Research, NTNU - Norwegian University of Science, Tel-Tek, University of Oslo, Gassco, Norcem and Statoil

Finland:
VTT Technology Research Centre

Sweden:
Chalmers University of Technology, IVL Swedish Environment, Swedish Geological Survey

Denmark:
National Geological Survey of Denmark and Greenland

Iceland:
Haskoli Iceland and Reykjavik Energy.
Cross-border cooperation
The goal is to create cross-border cooperation and platforms for industry-driven innovation in CCS. Nordic Innovation is looking for strong industry participation to promote user needs and ensure that investments in CCS are put into place.


"We are looking forward to the development of this Centre of Expertise, and we hope that a Nordic model for cooperation between industry and research can place CCS on the global arena," says Ivar Kristensen, director of Nordic Innovation, adding that a well-functioning cooperative model can be transferred to other sectors and areas of development.


Wide range of sectors

Director Nils Røkke says that the newly established NORDICCS centre wishes to contribute to the establishment of research and development projects in a wide range of sectors.
"In addition to participating in CCS projects in fossil power generation, we want to look at opportunities to implement CCS in areas such as metals, oil refineries, cement production and pulp and paper. We are also interested in CO2 capture from bioenergy, which will mean a net reduction of CO2 in the atmosphere," says Røkke.

Eleven institutes

Eleven research institutes from all five Nordic countries are R & D partners in the centre.
The industrial partners include Statoil, Gassco, a state-owned company that manages Norway's natural gas exports, the Norwegian cement producer Norcem and the Icelandic energy company Orkuveita Reykjavíkur. Additionally 17 other companies and institutions are affiliated members of the centre.
"We hope to attract even more partners when we are up and running, especially from industry," says Røkke.


By Svein Tønseth
Nils Anders Røkke, Vice-president, CCS, SINTEF
Tel: +47 73 59 25 14, mobile: +47 951 56 181
Email: