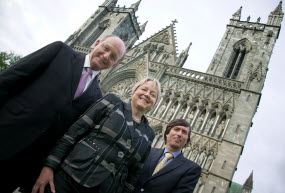 The alliance partners, here represented by Jan Mengelers, President of TNO, Unni Steinsmo, President of SINTEF, and Maurice Boutéca, Director, IFP Energies nouvelles. Photo: Gry Karin Stimo / SINTEF

.
The three institutes are supporting the efforts of energy utilities, equipment suppliers and authorities via their research and innovation efforts related to CCS - i.e. the future capture, transport and underground storage of CO
2
from fossil-fuelled power stations and process industry.
The three institutes employ a total of 450 scientists in these fields, with a R&D portfolio in CCS of some €60 million a year.
Demonstration and full-scale systems

"As a group, we are large enough to tackle the scientific challenges that will emerge when in the course of a few years Europe commissions its planned demonstration and full-scale CCS plants," says alliance spokesman Dr. Nils A. Røkke, Vice President Climate Technologies, SINTEF.
Important weapon in climate struggle

Røkke points to the International Energy Agency's estimate that energy conservation and renewable energy alone will not be enough to prevent a global temperature rise of more than two degrees Celsius.
"The IEA makes it perfectly clear that CCS will be an important weapon in the armoury we need to win the climate fight. But there are still many challenges ahead of us before CCS will be a feasible technology, and it is in this perspective that the establishment of the
"Tri4CCS Alliance"
will make a difference," says Dr. Røkke.
Safe and cost-effective

According to Dr. Røkke, the expertise of the alliance will be of particular importance as a means of ensuring that carbon capture plants will be environmentally friendly and as cost-effective as possible, and just as important when it comes to monitoring the stored CO
2
.
"Research results will play a decisive role in gaining the public's acceptance for underground storage of CO
2
, and there too, the work of the alliance will be important," says Dr. Røkke.
Major laboratory facilities

Each of the three partners in the alliance operates important laboratory and test facilities.
"All in all, these facilities are a major asset as we integrate our R&D efforts in CCS," says Dr. Røkke.
The facilities cover all main elements in the CCS chain.
Following up full-scale storage
The alliance members are participating in follow-up projects on full-scale CO
2
storage from the Sleipner and Snøhvit gas fields off the coast of Norway, and the onshore CO
2
storage projects of In Salah in Algeria and Lacq in France.
"The alliance as a group knows a great deal about the "storage geology" of several geographical regions. With this knowledge, we can offer our services in many parts of the world," says Røkke.
"The TRI4CCS Alliance is based on a shared vision of the development of carbon capture and storage technology. IFPEN, SINTEF and TNO have joined forces to deliver more rapidly the technologies needed for worldwide deployment of CCS. I really appreciate the trustful and constructive relationship among the three of us and I am confident in the strength of our alliance," says Pascal Barthélemy, IFPEN Executive Vice-President.
"The three partners in the Tri4CCS Alliance, with their long experience, range of laboratory infrastructures and test facilities, jointly offer a unique approach that will enable industrial partners to meet the challenges of cost-effective, safe and sustainable implementation of CCS. The integrated technical expertise, together with solid risk management, will speed up the implementation of CCS on scales that really matter for improving the global CO
2
balance. By bringing together some of the world's top CCS experts we are creating a centre for innovation that will boost new ideas and developments beyond today's possibilities," says Jan Mengelers, President of TNO.
By Svein Tønseth