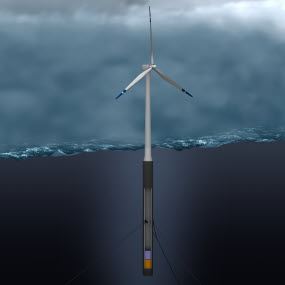 "Hywind" is the name of the wind-turbine concept that is being developed by Statoil. Construction of the new turbine will now give research and industry open access to test data. Photo: Solberg Production /StatoilHydro

The medium-scale, fully equipped wind turbine will be the first of its type in the world.
Access to its data will be an important tool for research and industry.
Among other benefits, scientists will be able to test new control systems, altrernative designs for various components of the turbine itself, and a range of mooring systems. These will offer a completely new range of possibilities for verifying numerical modelling tools for offshore wind turbines.
The new funds will also benefit the educational sector by providing an infrastructure for a wide range of MSc and PhD projects.
The application came from NOWITECH and NORCOWE, Norway's two centres for research on environmentally friendly wind energy, whose partners include Christian Michelsen Research, the University of Bergen, SINTEF, NTNU and the institute for Energy Research.