Nacre won the award for its QUIETPRO+ Intelligent Hearing System.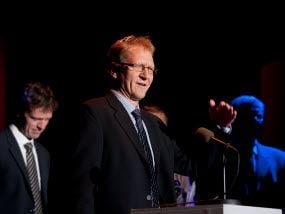 Odd Rønningen and the proud winners accepting the award consisting of an artwork by Håkon Gullvåg valued at 150,000 Norwegian kroner. Photography: Carl-Erik Eriksson.
QUIETPRO+ Intelligent Hearing is a fully automated system for hearing protection and communication.
In addition to protecting against noise, the equipment includes a microphone which picks up the sound of the voice in the user's auditory canal. Hence the voice is not affected by ambient noise and can be transmitted to other people.
This provides protection from noise while enabling users to carry on conversations in noisy surroundings.
QUIETPRO+ has been used extensively by the US Marines, particularly in Iraq.
Now the technology is to be put into civilian use as hearing protection on petroleum platforms. These days, hearing impairment is a common occupational injury among personnel working on the decks of such platforms. The Norwegian oil company Statoil is to be the first to make use of the equipment.
Read more about Nacre's technology in the following article from Gemini, the Norwegian research news magazine, and on the company's own web site: www.nacre.no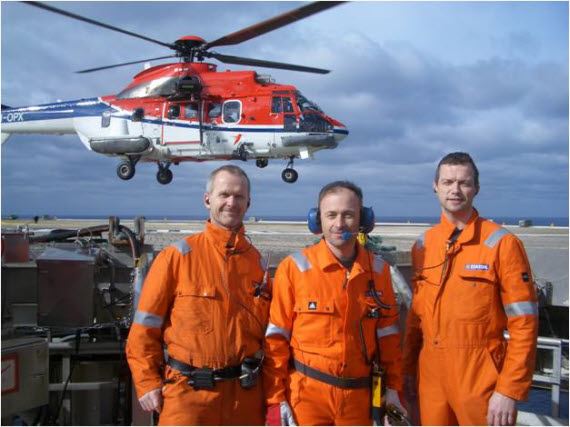 The new equipment being tested on the Heidrun platform. The worker in the centre is using conventional hearing protection while the others are equipped with Nacre's QUIETPRO. Photography: Statoil
According to the jury, Nacre won the award in keen competition with Niklas Magnusson (SINTEF Energi) and Magne Runde (SINTEF Energi and NTNU), and Professor Marit Otterlei of the Department of Cancer Research and Molecular Medicine at the Norwegian University of Science and Technology (NTNU).
Magnussen and Runde have developed a new induction furnace which uses superconducting magnetic coils to heat non-magnetic metals before extrusion, for example in aluminium rolling plants.
Their invention halves energy consumption in heating metals and increases productivity by 25 per cent.
Otterlei was nominated for her pioneering work in the use of Fluorescence Resonance Energy Transfer (FRET) in the analysis of protein-protein interaction in living cells, and the use of this technology to identify a potential new cytostatic medication.