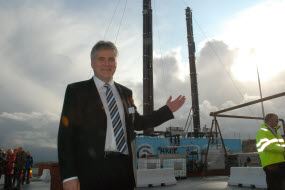 A good start to the new year for Nils A. Røkke and the rest of the SINTEF/NTNU CO2 team: the two institutions are to coordinate the establishment of joint European laboratories for CO2 research. (Photo: Bellona)
A cooperative body, whose members will be appointed by the ministers for research in the nations of the EU and the EEA, has decided that Europe will make a joint effort to build new CO
2
laboratories.
The decision allocates a key role in this process to Norway:
Norway will be the host country for the effort, and five of the total of 15 joint laboratories will be built in this country, at a cost of NOK 210 million.
This sum, almost a quarter of a billion kroner, will go to laboratories that will be created at NTNU/SINTEF in Trondheim.
International cost-sharing
Since Norway is the host nation, the Norwegian authorities are expected to contribute between 30 and 50 percent of the total funding of NOK 720 million.
The effort will take the form of a shared-cost project that will involve the ministries of research of nine European countries.
"The laboratories will play a decisive role in ensuring that the world will be able to put into operation efficient technology for the capture, transportation and storage of CO2 from coal- and gas-fuelled power stations and industrial plants," says Professor Arne Bredesen of NTNU, and Nils A. Røkke, SINTEF's director of climate research.

Joint effort
Some types of laboratory are so expensive that it would not make sense to build one in each individual country.
The cooperative body ESFRI (European Strategy Forum on Research Infrastructures) therefore decides which laboratories it would be rational for European to set up as joint ventures.
The application that has now led ESFRI to go in for joint European laboratories for the development of CO2 capture and storage technology was led by NTNU and SINTEF.

Nine countries in cooperation
Nine countries supported the application, led by Norway as the host nation.
The go-ahead from ESFRI means that NTNU and SINTEF will coordinate the development of CO2laboratories at a total cost of €81 million (NOK 730 million) in Norway, Germany, France, Switzerland, the Netherlands, Hungary. Poland, Croatia and Denmark.

Trondheim laboratories will cost a quarter of a million kroner
Of this total, €23 million (NOK 210 million) will be invested in new CO2 laboratories in Norway; the five new laboratories will be built up at NTNU/SINTEF in Trondheim.
• An absorption laboratory (technology for scrubbing CO2 from flue-gases with the aid of chemicals) for €8 million (NOK 72 million)
• A materials and process technology laboratory for €4 million (NOK 36 million)
• A combustion technology laboratory for €4 million (NOK 36 million)
• A storage technology laboratory for €4 million (NOK 36 million)
• A refrigeration laboratory (technology for separating CO2 out of gas mixtures by freezing) for €3 million (NOK 27 million).
All of these laboratories will be equipped with a completely new generation of laboratory equipment, and they will be available to scientists from all EU and EEA countries.

Flattering declaration of confidence
The application led by NTNU and SINTEF was one of ten that passed through the needle's eye in this year's ESFRI's evaluation process.
The initiative is known by the abbreviation ECCSEL, and was the only application in the field of energy research that was given the green light by the delegates.
"A flattering declaration of confidence for both of our institutions, and yet another piece of evidence that Norway has won a central place for itself in international climatology research," say Professor Bredesen and research director Røkke.

Optimism ahead of the funding process
The nine participants in the project will be responsible for securing their own share of the funding themselves, by applying to their national authorities and to the EU Framework Programmes.
Professor Bredesen and climate research director Røkke are optimistic with regard to this process.
"It is well known that ESFRI does a very thorough job. It evaluates the proposals that it receives carefully in both global and European perspectives before they are added to its route map. Being selected in this way gives a project high status and sends out positive signals. Such a response from ESFRI is a serious sign to participating countries that this is an initiative that should be prioritised in their national budgets," say Bredesen and Røkke.

"Team Norway"
For the past ten years, NTNU and SINTEF have had energy and environment as an area of special effort.
The two institutions have built up a significant level of research activity in this field, in close cooperation with the Research Council of Norway and Norwegian and overseas industry.
"The Research Council of Norway contacted us and asked us at NTNU and SINTEF to lead the task of drawing up an energy-related initiative for ESFRI's route map. This resulted in the ECCSEL proposal, which has emerged thanks to excellent cooperation between NTNU and SINTEF, the Research Council of Norway and the Ministry of Education and Research. This has been a real 'Team Norway'," say NTNU's Professor Bredesen and SINTEF's climate research director Røkke.
This is ESFRI
ESFRI (European Strategy Forum on Research Infrastructures), which has given the go-ahead to the Norwegian CO2 laboratory initiative, was established in 2002 on the initiative of the European Commission.
ESFRI consists of the 27 members of the EU plus four associated members (Norway, Iceland, Liechtenstein and Switzerland). The ministers of research of each of these 31 countries appoint two national representatives to ESFRI.
The commission was set up with the aim of putting research infrastructure on the strategic map and helping to ensure that EU members and associated countries can coordinate the development of new and resources-intensive laboratories as efficiently as possible.
ESFRI consists of experts appointed by all EU member nations and the associated countries. Since they are all in good contact with their own national processes, national and European initiatives are well coordinated.
Several well-known laboratories that are currently under planning already come under the ESFRI umbrella. These include the European Extremely Large Telescope; the largest optical telescope in the world, which will come into operation in 2018 and will give European astronomers new possibilities of understanding the origin of the universe.