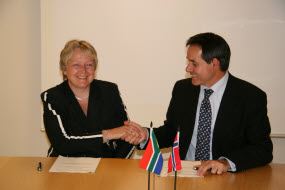 SINTEF President Unni Steinsmo and Vice-rector Arnold van Zyl of Stellenbosch University signed the Memorandum of Understanding. Photo: SINTEF
The two partners to the agreement have already joined forces to survey the living conditions of disabled people in a number of countries in Southern Africa – the poorest of Africa's poor.
The aim of the new agreement is to extend cooperation of this sort to other disciplines.
Six countries already mapped

For the past ten years, and in collaboration with several African universities and the Norwegian Federation of Organisations of Disabled People (FFO), SINTEF has been surveying the living conditions of disabled people in six southern African countries.
The ambition of SINTEF and its partners is to perform similar studies in ten countries in this part of the Continent.
Documentation for resolving conflicts of interest

"Before we started, there was a lack of data on the living conditions of disabled people in many third-world countries. For a long time, this has been an issue on the agenda of both the UN and the national authorities concerned. As a result of our studies, NGOs in Africa have been given the figures they need to show the authorities in their struggle on behalf of the interests of disabled people," says Chief scientist Arne H. Eide of SINTEF Technology and Society.
Three-quarters of all the disabled people in the world live in developing countries.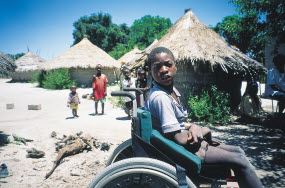 SINTEF has helped to survey the living conditions of Eino (12) and other disabled people in Namibia. Photo: Geir Tyrmi, SINTEF

A heavy burden to bear

Data from SINTEF's studies in Namibia, Zimbabwe, Malawi and Zambia show that more than 25 percent of adult disabled people in the four countries have not completed primary education. Among healthy people, the proportion is around ten percent.
The studies show that unemployment is significantly higher among disabled people in these countries than in the healthy population.
Several other measures of living conditions, such as income and property ownership, as well as access to information and services, indicate important differences that are to the disadvantage of disabled people.
Lie outwith the "standard" struggle against poverty

"In the light of the UN's Millennium Goal of eliminating poverty, it is essential that something should be done about the living conditions of disabled people in Africa. These are the poorest of the poor, who lie outwith many of the general poverty-reduction measures," says Eide.
Extending collaboration

SINTEF is already collaborating with its African partners in the fields of industrial development and petroleum technology.
"We hope that the agreement with Stellenbosch will lead to research cooperation in Africa in further areas such as fishing and aquaculture, materials science and industrial development. Fighting poverty is first and foremost a matter of ensuring that people have jobs and an income to live on," says SINTEF President Unni Steinsmo.