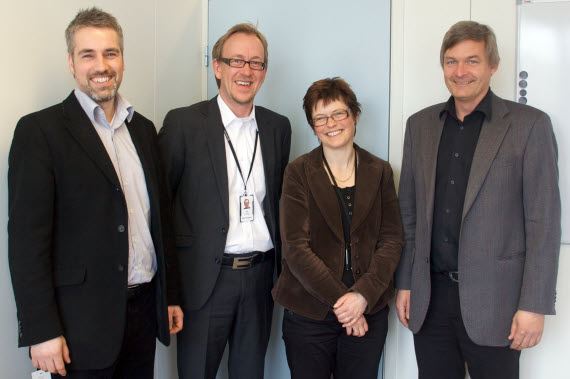 The board of Catenda AS (From the left: Founder of Catenda AS, Håvard Bell, Research Director at SINTEF Building and Infrastructure Kim Robert Lisø, Chairman of the board Elisabeth Ege from MRB and Founder and CEO of Catenda AS Ole Jørgen Karud).
Using open international standards and new technology will contribute substantially to a sustainable development of the Norwegian construction industry.
That is the opinion of the buildingSMART group at SINTEF. With buildingSMART and BIM experience amounting to more than 20 years, the group has recently formed a separate company, Catenda AS.
– Our aim is to develop data tools which can improve the AEC/FM industry in all stages of the building process, says one of the founders of Catenda AS, Håvard Bell.
The AEC/FM industry has discovered the value of buildingSMART based building information models (BIM) and the potential released by such a manner of working.
Catenda AS will collaborate closely with SINTEF, in order to secure the development SINTEF Building Research Design Guides (a web based knowledge system) needs to meet the future demands of the industry.
Cost saving technology
To bring useful, cost saving knowledge directly into the BIM and buildingSMART based building processes is a goal of Catenda AS. The company will do this by developing new technology that will benefit the end user directly.
– Catenda already has a search technology, founded on buildingSMART standards, which can revolutionize the way experience is being reused. The technology makes knowledge available in a simple and effective way, without introducing new, unfamiliar tools or processes that the user has to learn, Dr. Bell says.
Knowledge injections
By helping the user to give a "knowledge injection" straight into the BIM processes, Catenda's technology contributes to a sustainable development of the AEC/FM industry.
– Catenda will do this in a user-friendly way. buildingSMART and BIM has a huge potential, but we want to contribute to the gradual change, at the industry's own speed, Dr. Bell says.
Catenda AS and SINTEF have an agreement to develop software services for buildingSMART based building information models. These services will benefit the entire AEC/FM industry, by implementing these in the SINTEF Building Research Design Guides.


Contact:
Håvard Bell (e-mail: , telephone: + 47 98 88 29 29)
Ole Jørgen Karud (e-mail: , telephone: + 47 95 25 54 50)