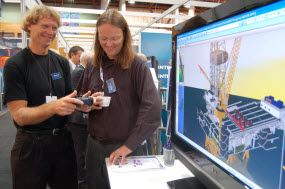 Rolv Rommetveit (left) who until now has been chief scientist at SINTEF Petroleum Research in Bergen, is moving to the start-up company eDrilling Systems, which will industrialise computer software that Rommetveit himself has helped to father. The photo shows him demonstrating the system at the Offshore Northern Seas petroleum industry exhibition in Stavanger last August, together with SINTEF colleague Knut Steinar Bjørkevoll. Photo: Svein Tønseth
The new company – eDrilling Systems – will have offices in Stavanger and Bergen, and expects soon to be employing ten people.
"We believe that the company will grow rapidly, and that its products will be in great demand all over the world", says managing director Rolv Rommetveit.
A complete system
The petroleum sector is using computer calculations more and more to guide and control drilling and well operations.
eDrilling Systems is targeting the market for the software needed to perform these calculations.
The company's first product will be the "eDrilling" software package, a complete system for simulating, monitoring and visualising drilling operations in three dimensions and in real time, which is to say that the system provides updated information about the operation on an ongoing basis as it is being performed.
Significant savings
"Today's well drilling costs are between a billion and one-and-a-half billion kroner, however significant savings can be made by optimising the process. We believe that a better decision support through the eDrilling software can lead to savings between 10 and 40 percent by reduced drilling downtime and other ways of making such operations more efficient", says Sven Inge Ødegård, business development manager in the new company.
Separate modules from SINTEF
eDrilling has been jointly developed by SINTEF Petroleum Research and
Hitec Products Drilling
(HPD).
Aker Solutions
(First Interactive and Aker MH) have also been important partners in the development process.
The system is the outcome of a three-year, NOK 35 million project, and it is currently under testing with
ConocoPhillips Norge
.
This is Hitec Products Drilling

Hitec Products Drilling (HPD) has 130 employees and its head office is in Stavanger. The company also has offices in Houston, Texas and in Aberdeen in the UK.

HPD supplies drilling and well equipment, as well as complete drilling equipment packages. The company integrates equipment from other suppliers into complete rig solutions.
In 2007, HPD had a turnover of NOK 300 million, which the company expects to rise to NOK 400 million in 2008 and to NOK 2 billion by 2011.


This is SINTEF Petroleum Research
SINTEF Petroleum Research has 109 employees and its main office is in Trondheim.

The company also has offices in Stavanger and Bergen.
SINTEF Petroleum Research is dedicated to improving the mapping and recovery of national and international oil and gas resources, profitably, safely and in an environmentally friendly way.

Company turnover in 2007 was NOK 166 million.
The company forms part of a national Centre for Research-based Innovation set up by the Research Council of Norway in the field of integrated operations.

This Centre has also contributed to the development of the eDrilling software package.
The system is made up of a series of separate modules that SINTEF has developed to calculate what is taking place in the drill-hole during drilling.

With financial support from ConocoPhillips and the Research Council of Norway, HPD and SINTEF have brought the modules together to form an integrated system.

Ready for the market in 2009
Final development of the eDrilling package is currently under way as part of a new NOK 25 million R & D project, financed by the Research Council (DEMO 2000), ConocoPhillips and Total.

eDrilling is planned to be ready for the market some time in 2009.

Related products
The new company will also commercialise eDrilling–related products, several of which are already being developed by the company's founders.

Customers will primarily be oil companies, drilling companies and the petroleum services sector.

Key personell
HPD and SINTEF, which is represented by its venture company SINTEF Venture III, each have a 40% shareholding in eDrilling Systems.

The company's first two employees will be Rolv Rommetveit and Sven Inge Ødegård, who have both played central roles in the development of the eDrilling software package.

Until now, Rommetveit has been research director at SINTEF Petroleum Research in Bergen, while Ødegård has been business development manager with HPD.
By Svein Tønseth