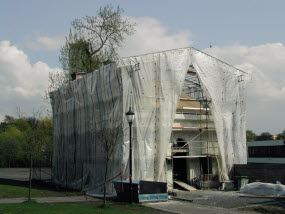 Norwegian houses will be plagued by damp in the future, says the scientists, Photo: SINTEF Building Research.
A good example of housing in one place can turn into a catastrophe elsewhere, given that the Norwegian climate is going to be very different in the future. Prognoses suggest that the differences that we experience today in terms of rain, wind and amount of snow are likely to significantly increase, depending on where we are in the country.
"More wind and heavy rain will necessarily mean changes in building styles. If these are not introduced, Norwegian houses will be plagued by damp in the future," asserts Cecilie Flyen Øyen of SINTEF Building Research.
Other requirements
As part of her ongoing doctorate, Øyen is studying adaptations to climatic conditions and damp-proofing in the prefabricated housing sector as part of the KLIMA2000 R & D programme. On the basis of interview data from the Norwegian Housing Bank, six local authorities and four standard house cases, she believes that both industry and local authorities will need to find different solutions for different Norwegian housing zones.
"Prefabricated houses in areas of high winds will have to be adapted to local conditions with double wind barrier membranes, properly fastened roofing tiles and better anchoring of the buildings themselves. The placing of doors and windows is one important concern. Another is just how houses are located in the terrain. In areas with more precipitation, stricter requirements will be set as regards walls, roofs and efficient ventilation," says Øyen.

Damp weather
Damp weather is the primary cause of anxiety to the scientists at SINTEF Building Research. The wetter climate that is on its way will require carpenters and house-builders to be more aware of the need to damp-proof houses. Protecting the house while it is being built will perhaps become a more usual procedure in the future. This will raise construction costs, but at the same time it will protect house-owners against future damage and health problems.
"The prefabricated housing sector operates according to industrial production principles in order to produce houses that are as identical as possible. If they do not take local weather conditions into account, this approach will not be compatible with the climatic developments that we are expecting," says Øyen, who advises purchasers to demand that the house they are buying should be damp-proof and climate-proof, and to have this documented.

"I believe that the research sector should help to develop climate zone maps, while local authorities must come into the picture and help to ensure that houses are designed to be suitable for such zones. They will also have to reinforce collaboration with the parties involved, and actively make use of the knowledge networks that are available beyond their own boundaries," says Øyen.

Contact: Cecilie Flyen Øyen, SINTEF Building Research
Tel: 00 47 971 83 297 Email: