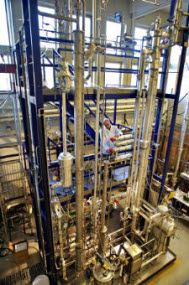 Today's CO2 capture pilot plant at SINTEF and NTNU's laboratories in Trondheim.
A central aspect of the agreement to cooperate is a plan for SINTEF and NTNU to develop and test more efficient chemicals for scrubbing CO
2
from flue gases or other industrial processes.
The chemicals will be specially adapted to Aker Kværner's concept for CO
2
capture from coal- and gas-fired power stations, which is called "Just Catch" technology.
Could break the monopoly

"By signing a contract with Aker Kværner on the chemical side, we are helping to qualify the company to supply CO
2
capture plants to the world market, on which there is virtually a monopoly today. With its cost-effective technology the Norwegian company will be able to force prices down and ensure that CO
2
capture is adopted more rapidly," say Nils Røkke, director of gas technology research at SINTEF, and Hallvard Svendsen, a professor of chemistry at NTNU.
Cut that makes a difference

The calculations made by SINTEF and NTNU show that the world will need about 7,500 capture plants for coal- and gas-fired power stations by 2100, as well as greater use of renewable sources of energy and more efficient energy utilisation, if we are to prevent the world's annual mean temperature from rising by more than two degrees.
According to figures from SINTEF and NTNU, annual cuts in the CO
2
emitted by 2.5 percent of these plants would be equivalent to total current Norwegian CO
2
emissions as well as the annual CO
2
emissions produced by our oil and gas exports at present.
Left out of discussion

Røkke and Svendsen believe that the potential for Norwegian industry to make a contribution to efficient CO
2
capture technology is not being paid enough attention in the national debate about environmental matters.
"Of course we should also be implementing measures that will reduce this country's own emissions. But it is as a technology supplier on the world market that Norway can contribute to CO
2
cuts that will make a difference on a global scale," say the two.
Scrubbing flue gases

Today, only a few international companies are capable of supplying plants that capture CO
2
from coal- and gas-fired power stations. These are solutions that are based on "scrubbing" CO
2
out of the stations' flue gases, using water-soluble chemicals called amines.
SINTEF and NTNU are to develop similar and alternative chemicals for Aker Kværner in the course of the new cooperation agreement. The plan is to develop new chemical systems that will bmore efficient, more stable and less damaging to nature than the amines in current use.
Payoff for years of research

"We have a very good point of departure. Thanks to strategic long-term research funding from the Research Council of Norway and Gassnova, as well as our participation in several EU projects, we have built up a high level of expertise in this field at SINTEF and NTNU," say Røkke and Svendsen.
"We have sown a lot of seed, which we hope will contribute to what we see as Norway's equivalent of the USA's moon landing, and our vision of Norwegian technology leadership in climate technology," they add.
Spin-off chemical company

The agreement that the two institutions have signed with Aker Kværner includes plans for establishing a jointly owned company that will own the rights to the new chemical systems and sell them to Aker Kværner and other users.
The agreement also includes plans for further expansion of the laboratories that SINTEF and NTNU use in their CO
2
capture research. This will strengthen the global toolbox for developing efficient, new and cheap climate technologies, claim the two research institutions.
High-value market

SINTEF and NTNU have also been estimating the value of a future market for CO
2
capture plants. The point of departure for their calculations is that around 7500 such plants could be constructed by 2100.
"A one percent share of such a market would mean a turnover of NOK 240 billion by 2100, so Norwegian society would be well repaid for its investments in research in this field," say Røkke and Svendsen.

By Svein Tønseth

This is the "Just Catch" technology