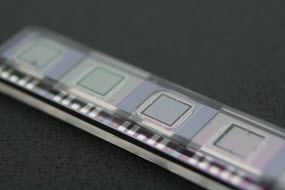 Sensor chip manufacture: Chips packed at wafer level, with a glass cover mounted over and under them. Costs are reduced by mounting the glass covers on all the chips in a wafer at the same time, before it is cut into individual chips. (Photo: SINTEF IKT)
SINTEF is collaborating in the Wivib research project with ABB and SKF to develop the vibration sensor that can be installed, for example, on machinery that drives pumps. Abnormal vibrations may be a sign that a machine is in the process of breaking down.
The sensor is initially intended to be used on offshore platform machinery, and will be installed as a package comprising battery, antenna and circuit board.
Shore-based monitoring
"Together, these components will give us a sensor node that can communicate wirelessly with other sensor nodes and with a central unit. This makes it possible to remain onshore and follow up individual machines hundreds of kilometres offshore," explains Maaike Taklo, who works at SINTEF ICT's MiNaLab.
"At present, oil companies are forced to send personnel out to the platform to test machines one at a time, unless fixed sensors have been cabled up."

Microsystem technology
The sensor nodes need to be cost-effective, so it is an advantage to make use of microsystem technology that tends to make mass production advantageous. The scientists are working on silicon wafers on which a large number of sensor chips are simultaneously, one layer at a time. Instead of laying a "cover" on each individual chip, a glass disc is attached to the upper and lower surfaces of all the chips at the same time, before the disc is cut into individual chips.
The sensors and the wireless communication unit have been tested, and the results are very promising.
"If the balls in a ball bearing are faulty, they generate a high-frequency ringing noise, while machines produce a low-frequency thumping sound with other types of wear. The new sensor is capable of measuring both types of sound simultaneously," says Taklo.
The project, which goes by the name of Vivib, is financially supported by the Research Council of Norway through its PETROMAKS Programme, which is aimed at the petroleum industry. SINTEF is responsible for supplying the sensor chips, while ABB and SKF are responsible for the wireless communication system and the interpretation of the vibration signals. The project started in 2006 and will continue until the end of 2008. Several oil companies including BP are members of the consortium that is helping to finance the project.