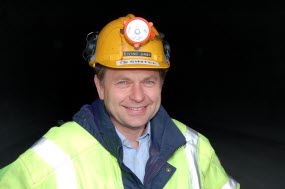 SINTEF tunnel scientist Eivind Grøv has seen much of the world, both above and below its surface. Photo: Svein Tønseth
Grøv holds an MSc in geotechnical engineering and rock mechanics from the the NTH (now
NTNU
). He is research manager in the Group of Rock and Soil Mechanics in SINTEF Building and Infrastructure in Trondheim.
Grøv is the third Norwegian to be elected to the presidium of the
International Tunnelling and Underground Space Association (ITA)
in the almost thirty five years of the Association's existence.
Door-opener for Norway

"This position gives me good opportunities to market Norwegian tunnelling expertise abroad, and I hope that it will enable me to open doors for Norwegian companies in the international market", says Grøv.
There are 52 member countries in the ITA, which has status as an advisory organ for the UN in the field of underground engineering projects.
Country of rock caverns

Marketing the use of "underground space" for various purposes, and spreading awareness of this field, are two of the ITA's most important tasks.
Few countries can point to as wide a range of, or as many, rock caverns as Norway. Norwegian consultants and researchers have already taken part in important tunnelling projects in other countries, particularly in connection with hydropower and the construction of underground and gas storage systems.
Bringing Norwegian knowledge abroad

Grøv's colleagues at
SINTEF Rock and Soil Mechanics
are involved in tunnel projects in Singapore and Hong Kong to mention some projects.
The Institute is also involved in four sub sea road-tunnel projects in neighbouring Scandinavian countries, to which our scientists are contributing their experience of similar projects in Norway.
More going underground

At the moment, the Norwegian tunnelling industry has its hands full at home. However, Grøv emphasises that Norwegian companies that profile themselves abroad just now will be in a good position to tackle changes in the macroeconomic cycle in the Norwegian market.
There is a growing need to use underground space, particularly in developing countries and in built-up areas, which means that there is a need for Norwegian expertise abroad.
"There are plenty of opportunities for companies that want to become active in other countries", emphasises Grøv.
A lot to learn going abroad

Grøv points out that the Norwegian tunnelling industry has a good reputation, and enjoys a high level of respect abroad. He mentions efficient tunnelling, rock injection and grouting, risk-sharing and decision-making as key-words that define our strong side in international terms.
At the same time, however, he mentions that several other countries have caught up with us in such fields as full-profile tunnel boring (TBM) and sprayed concrete.
"This means that we have a lot to learn by getting into the international market. New knowledge, paired with Norwegian pragmatic and solution-oriented practices could be a winning combination", he says.
Looking across borders

"We saw a growing number of Norwegian participants in ITA's recent world conference, which was recently held in Prague, and we actively contribute to several of ITA's activities. The Norwegian Tunnelling Society (NFF) stand was also well visited", says the SINTEF scientist, who is also a member of the board of the national association, and who has already been chairman of its international committee for four years.