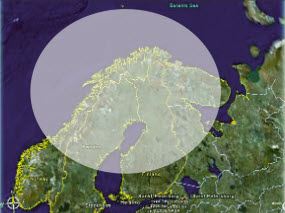 The idea is to set up plants to produce sponge iron in the Artic region. Photo: Medialab AS
On Norwegian and Russian territory in the Barents Sea lie some of the world's largest reserves of natural gas, which have been estimated to comprise around 25 percent of total global undiscovered reserves.
In the same geographical region huge deposits of iron ore, nickel and chromium lie in the ground.
Scientists at SINTEF and NTNU reckon that this area is one of the most attractive and potent regions for the establishment of new, modern industries. For about a year they have been working on their own account on a concept based on how these resources could benefit both industry and the nation as a whole.
The effects of coordinating natural gas and iron ore conversion and processing are interesting from environmental, microeconomic and macroeconomic perspectives. Current price trends also suggest that natural gas is becoming more competitive than it used to be, as the prices of coal and coke rise.

Efficient production
The idea is to set up plants to produce sponge iron (processed iron ore), that would be operated in conjunction with a gas-fired power station – with a flue-gas scrubber to reduce CO2 emissions to zero. The power station would be run on the gas by-products from iron production, such as hydrogen, where natural gas would replace coal or coke as fuel.
"This would dramatically reduce CO2 emissions, and the surplus CO2 would be so pure that it could be injected directly back into the oil or gas reservoir," says Jack Ødegaard at SINTEF, who has been the initiative's driving force and spokesman for almost a year.
The scientists believe that an industrial cluster of this sort would give us highly efficient iron and steel production together with efficient CO2 capture. Such a cluster would also - with ancillary flows of natural gas – be expanded to include the production of other products and materials such as hydrogen, carbon black, bioproteins, polymers, silicon, aluminium or titanium.
"One of the most interesting aspects will be if we can locate such industrial cluster close to existing or future natural gas landing terminals and pipelines for CO2 re-injection," says Ødegaard.
The overarching aim of the concept is environmentally responsible utilisation and processing of natural gas and iron ore deposits in the Arctic, where all the CO2 will be stored, with zero emissions as the ultimate goal

Good timing
Scientists at SINTEF and NTNU now want to look at these possibilities in more detail together with StatoilHydro, LKAB (Luossavaara-Kiirunavaara-Aktiebolag) and other companies. They believe that the timing of a concept like this is right: there is a great demand for materials and energy carriers just now, while there is also a focus on new sustainable industry in regions that need new jobs and a wider range of industry.
The Norwegian government's inaugural declaration (the Soria Moria Declaration) stated that "a larger proportion of the natural gas produced from the Norwegian continental shelf must be used in Norway for industrial, energy and transport purposes".
"SINTEF and NTNU believes that this project will be an important start to a goal-oriented, industrially rooted planning process regarding how such an ambition can be filled with specific content," says Jack Ødegaard.

Project initiatives
Two project initiatives concerning the "where gas meets ore" concept are already under way: the first is a large Gassmaks project, which aims to assemble 10 – 15 industrial partners around a series of studies concerning various industrial cluster models.

This is expected to be launched in January 2008 and to last for three years. The other project, which has still to be formally agreed, is a concrete pilot project for direct reduced iron (DRI) production in association with StatoilHydro's methanol plant at Tjeldbergodden.

Contact: Jack Ødegaard, SINTEF Materials and Chemistry
Tel: +47 93059461
Email: