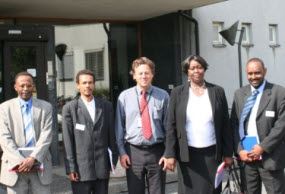 From the left: Advisor Eltayab Abuelgasin, general physician Tarig Saleh, Research Director Arne H. Eide, Minister of Health Tabita Butrus Shokai and Director of international health, Isameldin M. Abdella.
The purpose of the visit was to present SINTEF's involvement in international health research and discuss how we can best help to develop the health services in Sudan.
Arne H. Eide visited the Ministry of Health in Sudan last year, and he also keeps in close contact with the Sudanese Embassy in Oslo.
The Minister expressed her great interest in SINTEF's competence in health research, and was particularly interested in cooperation in mental health, health statistics and methods of combatting the major disease syndromes of tuberculosis, malaria and HIV/AIDS.
SINTEF and the Sudanese Minister of Health will now draw up a Memorandum of Understanding in order to ensure that cooperation is established on a long-term basis.
Read more about SINTEF Health Research's development aid projects
Text and photo: Geir Tyrmi