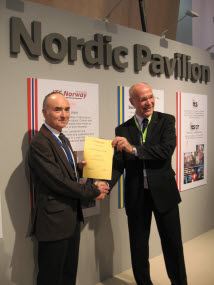 SINTEF chief scientist Trond Foss (left) receives the ITS Prize at the World Congress on Intelligent Transport Systems and Services in London. The award was handed over by Ivar Christiansen, managing director of ITS Norway. (Photo: ITS Norway)
The industry's national organisation - Intelligent Transport Systems and Services Norway - made the award, which has previously been given only once.
Electronic ticketing system

The prize-winner has played a central role in efforts to prepare Norway's future national system for coordinated electronic payment of trips by public transport.
Under contract to the Directorate of Public Roads Trond Foss took part in developing a handbook of electronic ticketing. The book offers important guidelines for the integration and acquisition of modern ticketing systems. Foss is also a member of a recently launched project that will draw up operating specifications for integrated payment systems.
"Credit card" for public transport

The new electronic ticketing concept will result in several new local travel products.
It will also mean that everyone in Norway will be able to buy a "credit card" for public transport. These cards can be used on buses, the railway, ferries, and high-speed craft, no matter where you are travelling in this country. The system will make everyday life much simpler for passengers, as well as saving time and thus making it easier for buses and trams to keep to their timetables.
Foss drew up the technical specifications for systems of this sort in the County of Rogaland, the first Norwegian county to introduce the guidelines set out in the handbook.
Automatic toll payments

The prize-winner is also due a share of the honour for Norway's current system of paying road tolls. Foss was responsible for drawing up the specification of requirements that underlies the national Autopass system, which enables users to pass every toll-booth in Norway with a single vehicle-mounted chip.
Internationally recognised

In their citation for the award, the jury said:
"The prize-winner is particularly recognised for his unique contribution to payment systems. In his work on the international standardisation of electronic payment and ticketing he has gained unique status and recognition at European and global level. Responsibility for an impressive amount of work on specifying one of the world's most advanced road-toll payment systems also figures on his list of achievements."
"The prize is a great honour, and I am extremely pleased to have been awarded it," says Foss.
Joined SINTEF in 2003

Trond Foss has a degree in transport engineering. He started his career in the Directorate of Public Roads where he worked on the development of advanced traffic-lights control in the 70s. He then moved to the Scandiaplan consulting company, which was subsequently bought up by Grøner.
Foss joined SINTEF in 2003, and since 2005 he has led SINTEF's research groups in transport safety and informatics. The section that he manages in SINTEF Technology and Society has a staff of 21. The whole group is working on aspects of intelligent transport systems that will give us safer, more efficient, more environmentally friendly transport.
By Svein Tønseth