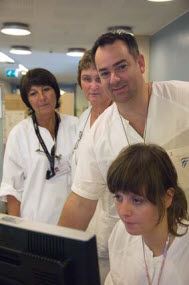 Fredrik Sunde at St. Olav Hospital has participated in the research.
Research at SINTEF has found that managers who are capable of mastering major public-sector turnaround operations share certain traits. Their results are presented in the report "Good management of restructuring processes", and they could become a useful tool for managers of both small and large companies in the private and public sectors,
"Restructuring is a trend that is here to stay, so we need better knowledge of what is needed to turn the process into something positive, from which employees can also benefit," says SINTEF senior scientist and project manager Lisbeth Øyum.
"What we often hear about are high levels of sick-leave, conflicts in the work-place and negative attitudes to restructuring. For that reason, we wish to look at organisations and companies that have made a good job of it, in order to learn from them".
Almost 60 in-depth interviews with managers, workers' representatives and ordinary employees in seven public-sector organisations that were in the midst of a restructuring process enabled the research team to uncover a number of factors that allow managers to turn change into a positive process for the whole work-place.

No stress
One of the main impressions gained by the study was that good managers manage to find time – both for themselves and others – even within tight schedules. Such managers prioritized tasks involved in the process of change, while their staff felt that enough time was being set aside to do their normal work. Even though the interviews gave the researchers the impression that pressure of work was high among the managers, none of them claimed to be stressed or made tense by the situation.
"Good managers seem to have a lot to do, and they manage to do what is needed without becoming stressed," says Øyum. They manage to make themselves available to other employees, protect them from fuss and improve their ability to cope. This ability to make good use of their time helps to make unstable surroundings more predictable. A manager's "time smartness" enables employees feels that they have the situation under control."

Chaos buffers
The restructuring process is often experienced as a chaotic situation by employees. It turns out that the best managers enjoy chaos and manage to prioritise daily activities for their staff. The have the ability to be clear and to sort out important and less important matters, so that employees do not need to concern themselves about everything and have the feeling that they have a good overview of the situation. By focusing clearly on what is going to happen and what is important at any given moment, they clear up the chaotic situation and create more relaxed working conditions.
In the course of the process of change, good leaders carry out evaluations, and make it clear for their employees that few elements in the process are locked. They are open to the idea that things can be done in various ways, and they take it for granted that employees want to be part of the process. This creates a feeling of ownership, coping and enthusiasm among staff.
"A common feature was that managers who are successful in the restructuring process had a clear leadership profile and that they had often developed their own management style in the wake of long experience," says Øyum.

What's in it for me?
One of the clearest features of good managers that the research team found was that they are good at providing information. This involves more than merely communicating. Good managers understand the power of good communication, and they are good pedagogues. They gather all the relevant information and then they "translate" it into terms that will mean something for employees in practical terms. Information is then transmitted at a joint meeting, at which the manager explains what is going to happen – and why – without leaving any room for ambiguity.
"This is not a matter of sending out a circular or an email flagged in red," says Øyum. "A good communicator listens more than he informs. Moreover, he demands input from his colleagues. He or she says "How are we going to solve this problem, folks?" Good managers and also visible, they get around and create physical joint spaces for their staff."

The hunt for good examples
SINTEF took about six months to find relevant cases and managers. The research teams required that the companies they wished to study should be undergoing a restructuring process while they were working with them. The managers also needed recognition that they were doing a good job, there should not be too much noise and feeling of insecurity associated with the restructuring process, while sick-leave and the level of conflict should not have become any worse as a result of it.
The researchers studied a number of different factors. Apart from the employees' view of the manager's way of handling the restructuring process, they also looked for information about the changes that the process had meant for the employees, such as the introduction of new technology and changes in their work-place.
Changes in the work environment were another important measure, as was the managers' own point of view regarding what is involved in good management during the restructuring process.

I see you – and myself
In the report that is just about to be published, good leadership is presented as the ability to see the people behind the job that needs to be done. It is a matter of caring. Good bosses are people who like other people and place confidence in them, according to the findings of the research team. At the same time, many of the managers had an extremely good ability to see themselves from outside, a very useful ability when one depends on getting people "alongside". Employees regarded such managers as good to work with.
The project was financed principally by the Nordic Council of Ministers, with extra funding provided by the Norwegian Directorate of Labour Inspection.