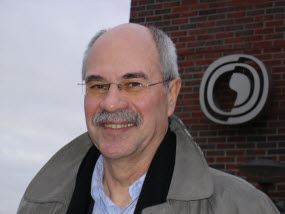 Bjørn Svensvik is the new President of SINTEF Building Research. Photo: Svein Tønseth
The research division was set up at the beginning of 2006, when Byggforsk (The Norwegian Building Research Institute) and SINTEF's departments of building and construction were merged.
Svensvik has led SINTEF's building and contruction industry research for the past five years. Born in Kristiansund, he trained as a civil engineer at the Technical University in Brunswick in Germany, where he also gained his doctorate.
Svensvik has held management appointments in the building industry for 17 years, including four years abroad. Among other positions, he has been project director with Kværner Oil & Gas International and assistant managing director in Kværner Concrete Construction. He also has experience of project management with Kværner Doris Offshore Concrete and Norwegian Contractors. He is an adjunct professor at NTNU, as he has also been at the University of Wismar in Germany.
SINTEF's ambition is that SINTEF Building and Infrastructure should become Europe's best-known research institution in the building and construction sector. With a staff of 270 in Trondheim and Oslo, the company will be a major European actor in R & D, product documentation, dissemination of knowledge and specialist consulting services for this sector.
"Society has a serious need for renewal and development in building and infrastructure. For us in SINTEF Building and Infrastructure, the challenge will be to organise and present our competence in a way that will make us an attractive partner for industry and the public sector, both in Norway and abroad. With the excellent professional resources that the compåany now possesses, the strength of forming part of the SINTEF Group and the advantages of being a close partner of NTNU, everything suggests that we will succeeed in doing so", says Svensvik.
SINTEF President Unni Steinsmo says that Svensvik was chosen from among a strong group of applicants. "Bjørn Svensvik is a leader with international experience, high personal integrity and solid power of judgement. He enjoys a high degree of respect both in academic life and industry. Svensvik will be an important resource for SINTEF's group management," says Steinsmo.