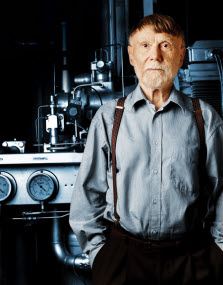 Professor Einar Brendeng is Snøhvit's grandfather.
Photo: Lasse Berre
Professor Emeritus Einar Brendeng is eighty yearas old and still puts in his eight hours a day at his office. His research and his innovative abilities are among the reasons that we are in a position to carry out the Snøhvit project - the largest industrial project ever undertaken in northern Norway.
Snøhvit's grandfather
Professor Brendeng's desk is covered in overheads and notes for a lecture he is preparing. Piles of notebooks and folders lie around the office. A box of Pedigree Pal dog biscuits stands on a shelf. The bookshelves are full of yellowing folders and dusty books, evidence of a long career in research.
"It's true that some people call me the Snøhvit project's grandfather", he smiles, "but I didn't launch the project". His brown eyes look cunning. "I only tried to persuade people to do their doctorates on the subject".
But such modesty is difficult to credit. Einar Brendeng was appointed Knight First Class of the Order of St. Olav last September.
LNG ships
Brendeng has always been an innovator. During the 50s and 60s he developed insulation systems for large cold-stores, work which gained him a Royal Medal for Norwegian Institute of Technology dissertation in 1961.
He went on to develop insulation systems for refrigerated vessels. His knowledge paved the way for the largest LNG ships with spherical tanks developed by the Moss Rosenberg Shipyard. These vessels still have a 60% share of the global market for LNG shipping, and they have been nominated as one of the most important Norwegian engineering feats of the 20th century.
A black box
Brendeng is well into a description of what he has been doing, and we have dug into the pile of overheads on his desk.
"At the end of the 70s we started work on process simulators that could simulate LNG production. We knew how such systems operated, but the spiral tube heat exchanger that is essential for LNG production was a black box to us, as it was to the rest of the world".
Advanced heat exchanger
The US Air Products corporation had a virtual monopoly on large-scale LNG plants that utilised mixed cooling media and propane for the refrigeration system, and it was naturally not interested in sharing its know-how. We decided to crack the secret". Brandeng's voice becomes keener.
"You see, we understood the other parts of the plant. It was the advanced heat exchanger that was giving us a headache".
Doctoral theses
In his hunt for a solution, Brendeng persuaded a number of students to write their dissertations and doctoral theses on this subject. A frame agreement signed in 1984 with Statoil got the project up to speed. And while the ink on the contract was still drying, Brendeng and his colleagues were getting well under way.
"Our aim was always to make Snøhvit possible, since we knew that LNG was the only possible way to transport gas to Europe. We began to realise that it could be done, but we needed a test plant. Our theoretical calculations needed to be properly tested".
Important programme
Then the sources of finance dried up, funding stopped and the prospects for Snøhvit began to look less certain.
In 1987, the Norwegian state launched a special effort via the SPUNG programme, which aimed to build up Norwegian competence in utilising natural gas. The brought Norway several steps closer to implementing the Snøhvit project.
Breaking a monopoly
Statoil decided to collaborate with the German company Linde on testing a spiral tube heat exchanger. The test programme demonstrated that it was possible to build a better, more compact heat exchanger than the one manufactured by Air Products, breaking their global monopoly.
The frame agreement signed with Statoil in 1984 turned out to be a
key element of the development process. Statoil now owns a process for LNG production together with the German company Linde.
Olav Fjell, the former head of Statoil, has said that without Brendeng's ability to look ahead, his vision in 1984 and the great efforts that he put into his research in the following years, the development of Snøhvit would scarcely have become the reality that we can see today.
by Anne Lise Aakervik
from Gemini 1/2004