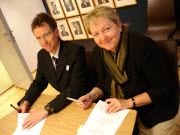 Group Manager R&D, Dave Walwyn,CSIR and President (CEO) Unni Steinsmo, SINTEF.
CSIR, South Africa's Council for Scientific and Industrial Research, is one of the largest research organisations in the world. CSIR plays a central role in research throughout southern Africa, and is in contact with similar organisations all over the world.
The South African research organisation is similar to SINTEF in many ways, and this was a return visit following a trip to CSIR by the SINTEF management team in May this year.
The South Africans met representatives of most of SINTEF's research divisions. In Oslo, there was time to meet SINTEF Health Research and SINTEF ICT, and to visit MiNaLab, while In Trondheim there were meetings with groups from health technology, water, transport, smartwear and construction technology.
"What we see is that we can complement each other in a number of areas," says project director Bjørn Svensvik of SINTEF Technology and Society, "and we have started a process in which each party will become thoroughly acquainted with the other's fields of work".
The aim of the visit has been to discuss the possibility of research cooperation and joint efforts in promoting regional development in southern Africa.

Text: Åse Dragland
Photo: Christina B. Winge