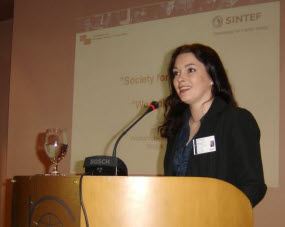 Cathrine Valsø from International Operations, SINTEF Technology and Society, is project coordinator and initiated the workshop in Macedonia.
The workshop gathered approximately 40 participant representing the four groups of stakeholders: Companies, authorities, akademia and DPOs. In addition various NGOs were present. Representatives from the stakeholders made speeches from their perspective of the needs and challenges, and the discussion that followed showed that there really is a need for such a project. This project initiative have gained a lot of acceptance and support in Macedonia.

A need for more knowledge
The situation for persons with special needs in the macedonian workforce is in largely governed by "The Law of Protective Companies" that gives the companies public benefits for employing workers with disabilities. The laws and regulations give workers with disabilities the right to the same working conditions as non-disabiled workers, but in practice there is great challenges to be overcome. It is a need for more knowledge about assistive devices and adaptions, as well as accessibility to the workforce and legislations.
SINTEF cooperates with local partners
SINTEF Technology and society and SINTEF Health Research has in cooperation with local actors developed plans for a pilot phase, where this workshop constitute an important basis for further work. Important collaborating partners are "The Institute of Special Education and Rehabilitation" (University of St. Cyril and Methodius, Skopje) and PolioPlus (DPO) together with the Ministry of Labour and Social Policy.
Plan for a pilot study in 2006
In 2006 we wish to conduct a pilot study that will provide research based knowledge regarding employment and working conditions for persons with disabilities in Macedonia. An important focus is also the awarenessraising regarding the connection between academia, DPOs, companies and authorities in capacitybuilding for improvement of rights and conditions for persons with disabilities in the workplace. One of our goals is to use these results to develop a framework and work packages for a larger main project that connects the stakeholders and realizes several sub-projects.
Contact:

{DynamicContent:Ansatt link}
{DynamicContent:Ansatt link}