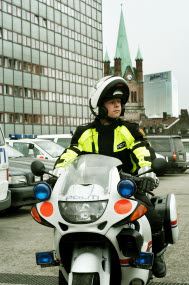 Geir Mikkelsen and his colleagues in the motorcycle police have been issued with new uniforms.
Photo: Kim Ramberghaug
The new uniform is made of synthetic material. It was originally developed for the civilian market, but the police version will be more noticeable in traffic. Its sleeves, breast and back surfaces all have eye-catching fluorescent yellow patches.


Better comfort, better visibility
The change in uniform because the police officers wanted working clothes that would be more comfortable on cold winter days. Their leather uniforms become stiff in the cold and they require so many layers of clothing underneath that the mobility of their wearers is reduced.
"Since we were going to change the uniforms anyway, we decided to make the motorcycle patrolmen more visible", says textile engineer Eldbjørg Markhus Brekke of the Police Data and Materiel Supply Division.

Sweden to follow
The new uniform was selected as the result of a cooperative project run by the Police Data and Materiel Supply Division and SINTEF Health Research. Flatteringly enough for the Norwegian partners, the Swedish National Police Board has decided that Swedish motorcycle police will follow the Norwegian example and adopt the new clothing.

Scientific testing
The new uniform forms part of a total package that also comprises underwear and mid-layer clothing. Every single item has been selected on the basis of tests that clothing specialists have carried out for the police. Both in the climate chamber and out on the road, SINTEF has measured how well the clothing ventilates warm bodies, and how well it protects wearers against cold and rain.
"The new clothing has greatly improved comfort in the cold season. Now we are working on modifications that will ventilate the new uniforms even better in the summer heat", says Eldbjørg Markhus Brekke.

Involving the users
The MC officers themselves have helped to set the course of the uniform project. The first thing that SINTEF did was to carry out a survey of their experience with the traditional MC uniform, and the properties that they wanted the new uniforms to have. On the basis of their responses SINTEF and the Police Data and Materiel Supply Division drew up a list of requirements which formed the basis of the invitation to tender that was sent out to the textile industry.

Still leather in the transition period
So far, about ten motorcycle police officers in Oslo have begun to use the new uniform.
"Our aim is that the whole MC force will be issued with the new clothing by 2007", says Brekke.

Contact:
{DynamicContent:Ansatt link}
Eldbjørg Markhus Brekke, Norwegian Police Data and Procurement Service, phone: +47 61 31 80 00