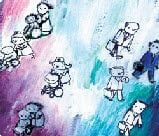 Immigrant women are less active in working life than Norwegian women, and less than men with an immigrant background. However, this does not mean that Norwegians' perceptions of immigrant women as a homogeneous, passive group are correct.
Data collected by SINTEF researchers Berit Berg and Tove Håpnes show that many immigrant women would like to work. According to the two women, the Norwegian authorities have indicated that integration into the labour market requires immigrants to obtain suitable qualifications. However, Berg and Håpnes believe that the challenges involved are at least as great on the employers' side.
"Our material includes a number of examples of immigrant women not obtaining work even when they are suitably qualified. Employers will have to do something about their own attitudes and become a bit more solution-oriented and adaptable", say the two researchers.
Contact:
{DynamicContent:Ansatt link}