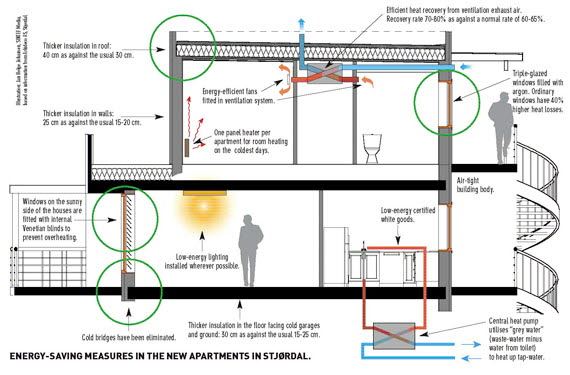 Energy-saving measures in the new apartments in Stjørdal
Click on image for high resolution illustration
House-buyers in the brand-new Husby Amfi project in Stjørdal in Nord-Trøndelag in Norway are moving into their new homes. They are coming to apartments that are better insulated than other new-built houses.
The apartment complex also has superinsulated windows, ventilation systems with efficient heat recovery and an advanced heat pump system for heating tapwater. Everything is controlled by a modern, user-friendly, web-based control system.
But if you thought that all the insulation and technical finesses would have burned a hole in the pockets of the new house-owners, you would be quite wrong. They will have lower monthly housing costs than other builders of new housing.

Worthwhile cuts
Right enough, the building company has worked out that building costs are six percent higher than normal. "But this will soon be outweighed by the savings from low energy consumption", says SINTEF energy research Tor Helge Dokka, who has been the project's expert consultant in energy and indoor climate.
The body of the buildings in Husby Amfi are compact. The apartment complex has four to five floors and consists of 56 apartments. They can get by with an annual energy consumption of only 70 kWh per square metre, while annual consumption in normal Norwegian housing lies around 200 kWh per square metre. The low-energy apartments need no more than 18 - 20 kWh per square metre for room heating; a fifth of the normal level!

The recipe
These energy savings are not being made at the expense of either indoor climate or comfort, points out Dokka. The recipe is made up of a series of separate measures':
The apartments have more insulation than normal in their walls, floors and roof.
The windows are "superinsulated", but allow in a lot of radiant heat from the sun when this is needed.
The body of the building has very limited leaks and no thermal bridges.
Each apartment has its own ventilation system that brings in sufficient fresh air, but also recovers 70 - 80 percent of the heat in the exhaust air.
Low-energy lamps are used wherever possible, in order to reduce electricity consumption and avoid overheating.
A graphical building energy management system (BEMS) continually shows how much heating and electricity is being used in order to raise awareness of energy consumption.
When the apartment is empty, several of the installations go over to "standby mode". Lamps, coffee machines and so on are switched off and the ventilation is reduced.

Norwegian premiere
For hot-water heating, the planners have gone in for a solution which has not been utilised so far in Norwegian housing. The water is heated by a heat pump that makes use of the heat in "grey water" (all waste-water except from the toilet). This source of heat makes the heat pump extra efficient: a single kilowatt hour of electricity produces five kWh of heat.

Visible over the border
The Stjørdal apartment complex is a Norway's demonstration housing in an international project which is being run under the auspices of
the International Energy Agency IEA
, in which the Norwegian Housing Bank and Enova are participating along with SINTEF. Read more about this project here:
www.sintef.no/lavenergiboliger
The project has also received funding from the Research Council of Norway. The Housing Bank has also contributed financial support for the extra planning efforts that have made possible the energy savings at Husby Amfi.

Record ready to fall
SINTEF's Tor Helge Dokka says that almost 3000 low-energy houses are being planned or built in Norway at present.
Husby Amfi will not last long at the top of the energy-conservation statistics. Several "passive houses" are currently being planned and built. In a passive house, the annual heating requirement must lie below 15 kWh per square metre. This is between one seventh and one eighth of the heating requirements of a normal house in Norway!
Moreover, a significant proportion of the house's heating requirement must be met by renewable energy. In theory, such houses should manage without systems for cooling or heating. In practice the ventilation air needs to be heated somewhat during the coldest days of the year.
"In houses of this sort, the energy consumption is so low that it will soon be possible to meet its heating energy requirements exclusively from locally generated energy from renewable sources: everything from combinations of solar heaters, solar cells and wind turbines to heat pumps and small bio-fuelled combined heat and power systems", says Dokka.
In other words, the energy-autonomous house is no longer so far off.
Contact:
{DynamicContent:Ansatt link}
By Svein Tønseth