Torkel Haufmann
Research Manager
---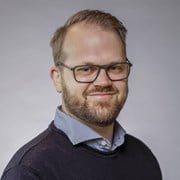 Unit:

Department:

Office:

Oslo
Torkel Andreas Haufmann is the research manager of the Optimization group at SINTEF. First in 2011-2013, and then since 2018 he has been working in SINTEF with applied research and innovation across a range of domains, including transportation, energy and construction. Since 2021 he has been the manager of the optimization group.
Education
Torkel got his MSc at the University of Oslo in 2011, later going back to obtain a PhD in combinatorial optimization and polyhedral combinatorics (2018).
Competence and research areas
Torkel's main research interest is in heuristic and exact methods for optimization problems arising from real-world applications.
Linkedin
https://www.linkedin.com/in/torkel-andreas-haufmann-96a0981a
Expertise
Contact person, expertise
Contact info
Visiting address:
Forskningsveien 1
Oslo