Serkan Eren
Senior Adviser
---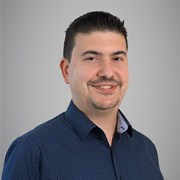 Unit:

Department:

Office:

Trondheim
Currently employed as Senior Advisor / Senior Consultant in lean manufacturing / systematic improvement work for manufacturing and service-providing businesses in the private and public sector.

Strong research professional with a Master of Science (M.Sc.) focused in Production and Quality Engineering from Norwegian University of Science and Technology (NTNU).
Competence and research areas
Experienced Product and Production Manager with a demonstrated history of working in the mechanical/industrial engineering industry. Skilled in Production Management, Lean Management, Lean Manufacturing Design, Supplier Chain Management, Customer Management, Team Leading, Staff Management, Optical System Design and ERP/MRP/MRP II systems.
Linkedin
https://www.linkedin.com/in/serkan-eren-5350241a/
ResearchGate
https://www.researchgate.net/profile/Serkan-Eren-2
ORCID
Contact info
Visiting address:
S P Andersens vei 3
Trondheim