Maxime Thys
Research Manager
---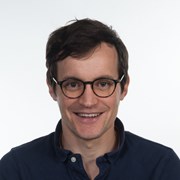 Unit:

Department:

Office:

Trondheim
Working at SINTEF Ocean since 2013. Started as researcher and then senior researcher working with model testing mainly of offshore wind turbines. Some of the main topics of reasearch were related to Real-Time Hybrid Model testing and testing of flexible structures.
I am working as Research Leader for the group of experimental hydrodynamics since 2021.
Education
Mechanical Engineer degree from the Université Catholique de Louvain (Belgium)
Specialised Master in Naval Architecture from ENSTA in Paris (France)
PhD in marin technology from NTNU (Norway)
Competence and research areas
Hydrodynamics, Experimental methods, Real-Time Hybrid Model Testing, Offshore Wind Turbines.
Contact info
Visiting address:
Paul Fjermstads vei 59
Trondheim