Franz Otto von Hafenbrädl
Research Scientist
---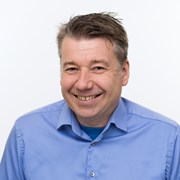 Unit:

Department:

Office:

Porsgrunn
Has worked in SINTEF since 2017 when Tel-Tek became part of SINTEF. Had then worked in Tel-Tek since 1996.
Education
Master of Science (M.Sc.) in Process Engineering, Engineer (B.Sc.) in Chemistry, Practical Pedagogical Education from USN (University of Southeast Norway)
Competence and research areas
Field of work: Powder technology, lab, analyzes, industrial assignments, rental manager and HSE. Currently, in the project Plastfri.
Contact info
Visiting address:
Forskningsparken, Hydrovegen 67
Porsgrunn