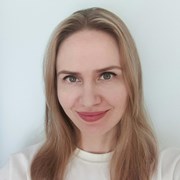 Unit:

Department:

Office:

Trondheim
Researcher involved in projects mainly related to nanomedicine:
- encapsulation of drugs in lipid-based nanoparticles (liposomes, emulsions),
- formulation of RNA-lipid nanoparticles,
- physico-chemical characterization of nanodrug delivery systems (DLS; Field-Flow-Fractionation coupled with UV/Vis, MALS).

Experience also in:
- in vitro cell studies,
- in vivo studies on rodents,
- ex vivo studies on brain slices,
- 1H and 31P NMR of brain tissue.

Education
- PhD in Medical Technology (Norwegian University of Science and Technology, Norway),
- MSc and BSc in Medical Biotechnology (Pomeranian Medical University, Poland).
Competence and research areas
Nanomedicine | Drug delivery | Lipid-based Nanoparticles | RNA-LNPs | Physico-chemical characterization of NPs | Oxygen-Glucose Deprivation model | Neonatal Hypoxia-Ischemia model