REBUS - Reuse of Building materials - a USer perspective
Despite a rapidly growing interest in the transition to a circular economy, there is still a lack of research on how to achieve it in various industries.
The contruction sector is a major source of greenhouse gas emissions, but it also holds a lot of potential in terms of material reuse and circular design. The scientific literature on this topic is still scarce, especially for the Norwegian context. The current knowledge is mostly in the form of industry reports for practitioners, based on anecdotal experiences. There is a clear need for more and better information on how to make the most sustainable choices when selecting materials and designing a building.
Another barrier is the lack of reuse-oriented regulation and documentation. Existing legislation and assessment methods are overwhelmingly geared towards new materials and products, and a linear economy model. How can the safety of a reused material be evaluated and documented? How can we judge whether it is more sustainable to reuse a product or to pick a new one? How can the different stakeholders in the construction process communicate and collaborate on approaching circularity in the construction sector?
The main objective of REBUS is to develop knowledge that will enable wider and more efficient implementation of reusable building materials for a transition to a circular built environment.
Project structure
The REBUS project work is divided into five work packages that each addresses a different aspect of the project objective. The figure on the right shows how the work packages relate to and interact with each other.
User requirements: analyse user awareness, knowledge, needs, social practice to find solutions and create a knowledge platform

Assessment of construction products for reuse: Identify best methods for assessing both technical performance and content of hazardous substances in construction products or components that are considered for reuse

Life cycle sustainability assessment: Identify how existing evaluation and labelling methods can be developed for communicating reusable materials in a life-cycle perspective

Pilot testing and toolbox: Co-produce implementation of practical knowledge of assessed methods and solutions through pilot projects
Networking and procurement: Develop network strategies and recommendations for incitements through procurement and regulations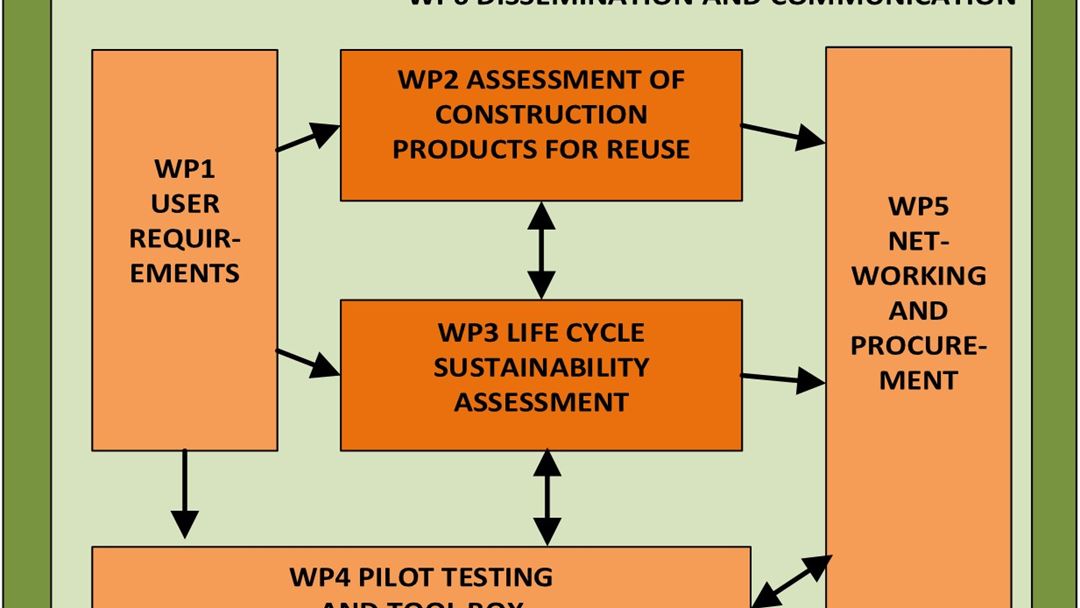 Expected output
Contribute with new knowledge of several aspects of reuse of building materials including legal procedures and quality assurance schemes of multiple technical, environmental, economic and social performance and how these aspects are related
By cooperating with the industry, the project aims to find practical solutions and develop more relevant methods for faster implementation of reuse of building materials
Pilots testing will build in-depth knowledge of how to deal with implementation issues such as suitability of test and evaluation methods, policies and requirements, and markets for reused products
Research on network strategies are another new aspects to ensure high level of engagement among users and stakeholders in co-production of common knowledge
Project facts
REBUS is a research project financed by the research Council of Norway through MILJØFORSK programme. The project started in January 2020 and will continue until December 2023. The project is interdisciplinary collaboration between architects, engineers and environmental psychologists from SINTEF AS and Inland Norway University of Applied Science together with Boligbygg Oslo KF, FutureBuilt, and Resirqel AS. International research collaboration and comparisons of the reuse market in other Scandinavian countries is secured through cooperation with the Danish Building Research Institute at Aalborg University in Copenhagen (SBi) and IVL Swedish Environmental Research Institute.