Mecklenburger Metallguss GmbH
Since 1948, Mecklenburger Metallguss GmbH has been a major player in the development and production of ship propellers. Thousands of vessels equipped with MMG propellers are at the moment crossing the oceans. Among them are many ships that are largest in their category.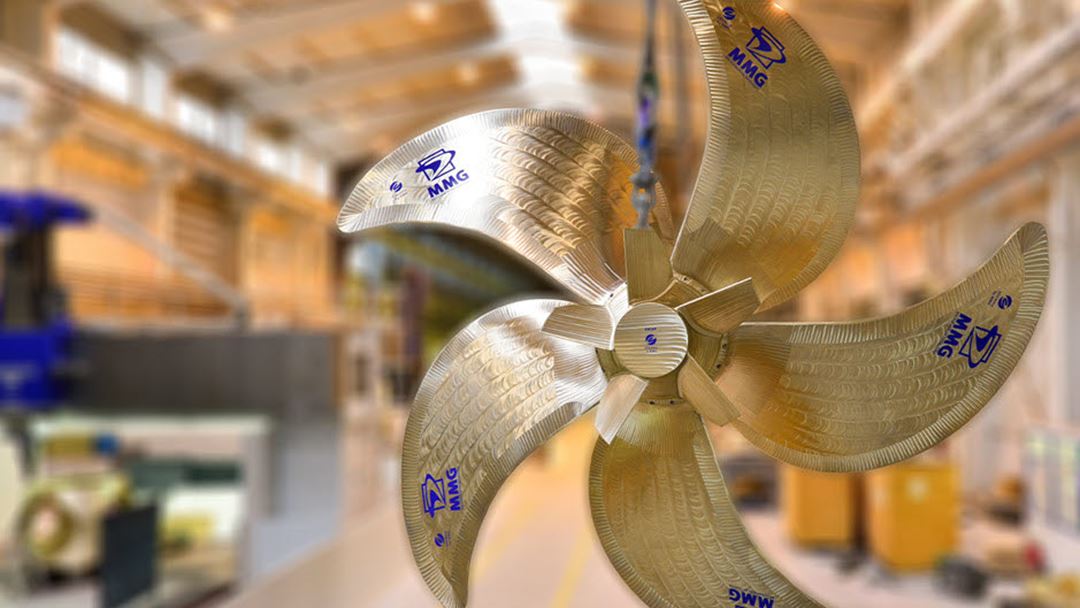 Ship propellers from MMG are a striking sight. Our golden giants are not only extremely powerful but also very elegant in design. However, aesthetic considerations are of course of no concern to our propeller designers. All their efforts are focused on thrust and power. Sometimes, limited modifications are all that is indeed to increase efficiency and reduce fuel consumption. In other cases, a new revolutionary design is required, especially in connection with new functions and use of vessels. For our designs, we therefore do not only take into account the ship's hull and its engine, but also the envisaged operation profile of the vessel. It is our aim to come up with solutions that offer exceptional efficiency at fast and slow speeds as well as with full and partial loads.
Whether the design potentials can be exploited depends in extraordinary measures on technical feasibility. The innovative 5D propulsion guarantees unrivalled high production precision. We use highly accurate digital technologies, such as Numerical Propulsion Simulation (NPS), Optical Precision Measurement (OPM) and Numerical Controlled Processing (NCP). For maximum design accuracy and maximum efficiency.
The MMG plant at Waren (Müritz) is one of the most modern and efficient propeller factories in the world. MMG combines the traditional production method of casting with innovative machining technology. The company operates the largest copper alloy melting plant in the world as well as computer-controlled five-axis mills. In addition, it uses high-precision measuring that meets the latest standards in propeller production. The development of more efficient ship propellers is obviously as important as the smooth operation of the MMG production plant.
MMG is always seeking for new production technologies that set standards worldwide in the area of innovation and quality thereby achieving greater customer satisfaction. Research in different engineering fields is part of the company's philosophy. Therefore, new technologies fields like additive manufacturing are in development at MMG. In order to enhance its casting processes the company developed a state-of-the-art 3D-printer for casting patterns.
In the project FlexiMan, MMG has its focus on hybrid manufacturing of propeller blades using DED by Laser. Together with the partner Fraunhofer IPK, MMG will enhance the DED-process to weld a small propeller blade. While IPK is focussing on the welding process itself, MMG is responsible for the design of the blade and supplying the powder feedstock. The goal of the project is to develop a process to recycle dust from propeller grinding as powder for the DED welding. Recycling the residuals of propeller manufacturing as feedstock can significantly reduce material costs for DED processes.