Safe and efficient hydrogen fuel handling and technology
The SH2IFT project shall increase competence within safety of hydrogen technology, especially focussing on consequences of handling and use of large volumes and within closed and semi-closed environments and in maritime transport.
Relevant aspects from the whole value chain from industry and authorities to end users/general public will be investigated, with special emphasis on the potential obstacles and bottlenecks for early implementation of hydrogen as fuel.
The project will both develop new models, perform large-scale fire and explosion experiments, and provide guidelines for use of hydrogen in industry and transport. Thus, the project will contribute to reduced green-house gas emissions and growth in existing and new Norwegian hydrogen industry.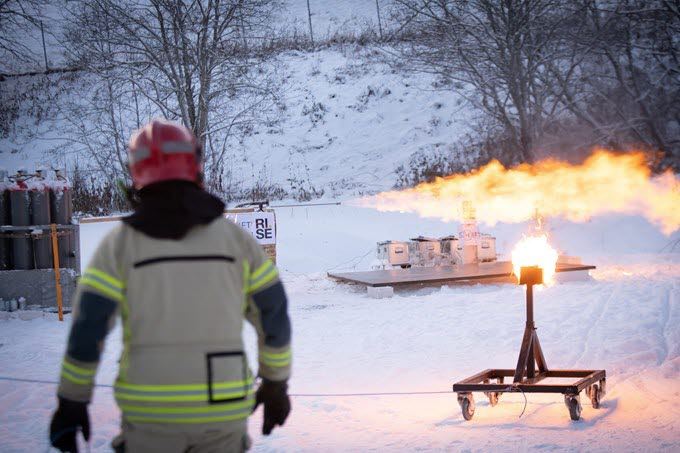 Project partners, funding and sponsors
The SH2IFT project consists of six partners: SINTEF Industry (coordinator), SINTEF Energy Research, Norwegian University of Science and Technology, The Instiute of Transport Economics, RISE Fire Research and Christian Michelsen Research.
The project is funded by the Research Counsil of Norway (ENERGIX - 280964): The ENERGIX programme provides funding for research on renewable energy, efficient use of energy, energy systems and energy policy. The programme is key instrument in the implementation of Norways national RD & D strategy, Energi21, as well as achieving other energy policy objectives.
The SH2IFT project is sponsored by:
Statens Vegvesen, Jernbanedirektoratet, Direktoratet for samfunnssikkerhet og beredskap, Fylkeskommunene; Viken, Vestland, Møre & Romsdal, Trøndelag, Finnmark, Equinor, Shell, NASTA, Statkraft, Ariane, Air Liquide, Nye veier, Total and Safetech.
Contact:
Name

Anders Ødegård

Title

Senior Project Manager

Phone

+47 943 56 595

Department

Sustainable Energy Technology

Office

Trondheim

Company

SINTEF AS

Senior Research Scientist
Name

Thor Anders Aarhaug

Title

Senior Research Scientist

Phone

+47 926 82 444

Department

Sustainable Energy Technology

Office

Trondheim

Company

SINTEF AS