Second Citizen Lab Ellesmere Port: a virtual visit to one of SecREEts' pilot sites
SecREEts held its own second Ellesmere Port Citizen Lab on February 3rd – also online due to COVID-19 restrictions.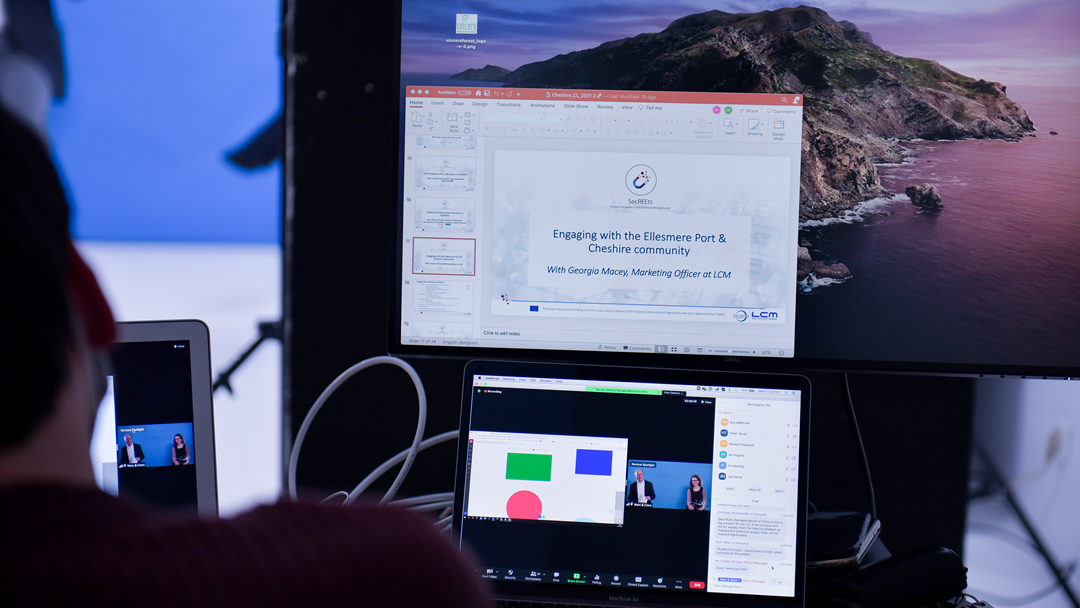 23 local stakeholders, including community-based associations, academia and businesses, joined us for our interactive discussions, moderated by SecREEts partner Prospex Insititute. As a request from participants to the first edition, we delved deeper into the rest of the SecREEts value chain and the materials used, and looked at how SecREEts deals with industrial safety and sustainability.
Based in Ellesmere Port, the SecREEts partner Less Common Metals (LCM), gave a virtual tour of their manufacturing site, showing how they create their alloys based on rare earths elements (NdFeB and SmCo), for permanent magnet production.
SecREEts partner Vacuumschmelze (VAC) then shed light on how they use LCM's products in their rare earth permanent magnets and supply them in turn to key customer segments around the world (automotive, aerospace, renewable energy, consumer electronics, e-mobility, etc.).
Finally, SecREEts partners Quantis and Ineris explored how they address safety and environmental standards in SecREEts, including the environmental impact of SecREEts' products through a life cycle assessment, as well as covering existing and emerging risks for workers and local communities at the SecREEts pilot sites.
As part of the SecREEts project, coordinated by SINTEF, these "Citizen Labs" are the cornerstone of our local engagement: they give an opportunity to local communities around the SecREEts pilot sites to comment, ask questions, and flag any social, economic or environmental issues that could be of their concern or interest.
For this Citizen Lab, we received many questions from participants (e.g. on quality control, the rare earth elements SecREEts focuses on, production times and direct deliveries, etc.). We were also happy to receive many suggestions for future local engagements (STEM-related activities with schools, closer engagement with students in pre-degree level, outreach to scouts and youth clubs, etc.). Stay tuned for the final Citizen Lab report documenting our exchanges and outcomes!
To learn more about LCM and their processes subscribe to their quarterly newsletter here. If you would like to participate or to know more about our Citizen Labs, please feel free to contact Ms. Clara Boissenin from Prospex Institute at .
The report from the meeting and Q&A are available on this link