Arbeidspakker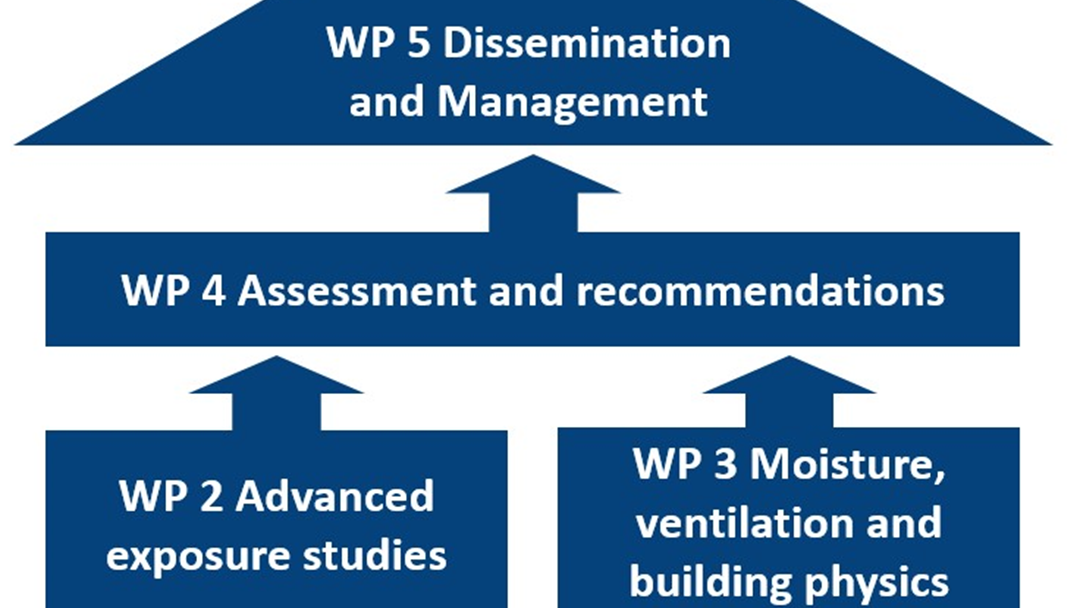 English below

Norsk beskrivelse av arbeidspakker
Urban Ventilation består av fem arbeidspakker.
Arbeidspakke 1: Typologi
APL: Karin Denizou – SINTEF Community
I denne arbeidspakken skal typiske planløsninger i nye urbane boligprosjekter kartlegges, og beboeres bruksvaner med hensyn til matlaging, dusjing/bading, renhold og klesvask og -tørk skal identifiseres. Ulike brukerprofiler vil beskrives og danne grunnlag for tre ulike brukerscenarioer, som vil ses i sammenheng med et utvalg typiske planløsninger. Denne arbeidspakken er grunnlag for øvrige arbeidspakker.
Arbeidspakke 2: Kjøkkenventilasjon og eksponering
APL: Kari Thunshelle – SINTEF Community
Ulike eksperimenter med forskjellige typer kjøkkenventilasjon vil bli utført i laboratoriet hos SINTEF Community. Eksponering av partikler fra matlagning i pustesone og oppholdssone vil bli målt.
Arbeidspakke 3: Fukt, ventilasjon og bygningsfysikk
APL: Sverre Holøs – SINTEF Community
I denne arbeidspakken skal fullskala, laboratorieeksperimenter og numerisk modellering utføres med tema fuktighet og ventilasjon. Her skal det logges parametere i studentboliger og utføres kontrollerte forsøk som skal inneholde blant annet forsøk i et baderom med parametere fra AP 1.

Arbeidspakke 4: Evalueringer, anbefalinger og risikovurderinger
APL: Kari Thunshelle – SINTEF Community
I denne arbeidspakken skal energiberegninger, inneklima, bærekraft og risikovurderinger av ventilasjonsstrategier funnet i AP 1 utføres. Konsekvenser for helse og komfort vil også bli vurdert.
Arbeidspakke 5: Prosjektadministrasjon og resultatspredning
APL: Sverre Holøs – SINTEF Community
Prosjektet vil gi informasjon om pågående aktiviteter og resultater til byggebransjen, med spesielt fokus på ventilasjonsbransjen. Prosjektresultater vil også være viktig inn mot lovgivende myndigheter. Resultater fra forskingsarbeidet vil bli publisert i rapporter og vitenskapelige publikasjoner nasjonalt og internasjonalt, se egen side for Publikasjoner, foredrag og presseoppslag.

English description of work packages and tasks
Work package 1: Typology
WPL: Karin Denizou – SINTEF Community
Task 1.1 Study typical apartments and categorize according to various predefined criteria such as size and lay-out, number and size of bathrooms/laundry room, placement of kitchen.
Task 1.2 Collect existing knowledge of residents' habits of cooking, showering and ventilation in urban housing.
Task 1.3 Define 3-4 representative archetypes based on the knowledge from Task 1.1 and 1.2.
Work package 2: Advanced residential exposure studies
WPL: Kari Thunshelle - SINTEF Community
Task 2.1 Exposure test review. A range of standardized and ad-hoc test methods are reported in the literature. The task will critically review the different methods in the light of usage scenarios from WP1, and recent research on cooking-related sources and exposures.
Task 2.2 Exposure and capture efficiency of different range-hoods. The task will assess and compare different range-hoods (recirculating, non-recirculating, down-draft, etc) with representative cooking procedures and typical exposure sources in the scenarios from WP1 for stove, floorplan, base ventilation and the placement of range-hood.
Task 2.3 Parametric study on performance of range-hoods and kitchen ventilation.
Work package 3: Moisture, ventilation and building physics
WPL: Sverre Holøs - SINTEF Community
Task 3.1 Field study of the spatiotemporal distribution of moisture, particles and heat loads (temperature, electrical) in dwellings.
Task 3.2 Field experiments of moisture generation, removal and regeneration.
Task 3.3 Laboratory experiments in a test bathroom unit with embedded radiant heating, will study the moisture excess due to showering according to usage scenarios (WP1).
Task 3.4 Moisture analysis and modelling. From the field and laboratory experiments, typical load profiles from showering events will be identified, including effects of moisture regeneration and buffering.
Work package 4: Assessment and recommendations
WPL: Kari Thunshelle - SINTEF Community
Task 4.1 Energy end-use and power demand. Data from WPs 1-3 will be used as input for energy and IEQ simulations of the archetypes.
Task 4.2 Sustainability assessment.
Task 4.3 Risk identification.
Task 4.4 Recommendations.
Work package 5: Project management and dissemination
WPL: Sverre Holøs – SINTEF Community
Task 5.1 Project management and partner communication.
Task 5.2 Communication and dissemination to the scientific community.
Task 5.3 Articles in building magazines and presentations.
Task 5.4 Authorities and standardisation body.
Task 5.5 General public through website and social media.