Daglig rapport - dag 25, 30. juli
Nok en natt, nok et dykk – og nattens dykk var ekstra spennende fordi det avdekket særegne hydrotermiske skorsteinstrukturer.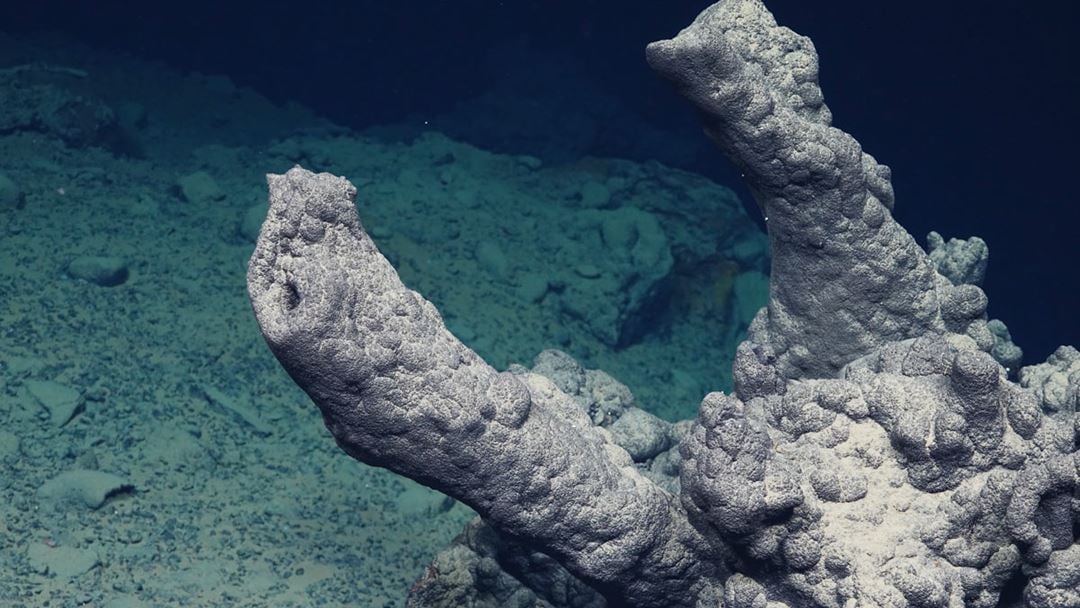 Det har vært kjent at det er hydrotermisk aktivitet på Lucky Ridge siden et tokt med Polarstern i 2004. Den gangen hentet Polarstern opp prøver med bunnskraper, og fant da sulfidholdige mineraler som tydet på hydrotermisk aktivitet. De registrerte også avvik i vannsøylen som igjen antyder at det kommer varmt vann opp fra sjøbunnen.
De siste dagene har GoNorth bygget videre på disse funnene. Ved hjelp av ROV-en (den fjernstyrte undervannsfarkosten Ægir), har vi kartlagt deler av havbunnen i detalj. Mens FF Kronprins Haakon driver sakte med isen følger ROV-en etter 3000 meter under skipet og kartlegger havbunnen ved hjelp av lydbølger. Kartene viser rekker av over 20 meter høye søyleformete fjellformasjoner i deler av området. I natt dykket ROV-en ned til disse formasjonene for å ta bilder, video og samle prøver. Disse viser at søylene er bygget opp av mineraler som felles ut av varmt hydrotermisk vann.
– Vi har nå funnet mange tegn på hydrotermisk aktivitet: i form av mineraler, fauna og søyleformasjoner, sier toktleder Rolf Birger Pedersen. Havbunnen i disse områdene er spesiell. Lucky Ridge, som området er blitt kalt, består av mantelbergarter som vanligvis er dekket av jordskorpen. Kjemiske reaksjoner mellom mantelmineraler og sjøvann fører til dannelse av hydrogen. Hydrogen er en energikilde for noen typer mikrorganismer, som igjen er mat for høyerestående livsformer. Områdene som GoNorth nå kartlegger er derfor et utmerket område for å studere samspill mellom liv, vann og mineraler.
Under disse dykkene har ROV-en tatt mange prøver som vil bli analysert etter toktet, og som vil fortelle oss mer om områdets geologiske historie og dyphavsmiljø.
Brev fra Polarstern
Våre venner på det tyske forskningsskipet Polarstern, som vi samarbeidet med i omtrent en uke, ankommer snart Tromsø. Der skal en ny vitenskapelig besetning komme om bord før neste tokt, som starter om et par dager. De sendte oss følgende tekst og bilder, som forklarer hva de har gjort under deres ekspedisjon (på engelsk).
Expedition PS137, ALOIS (Arctic Lithosphere Ocean Interaction Study) on RV Polarstern
ALOIS is a pioneering interdisciplinary experiment investigating the formation of new ocean floor at the Arctic Gakkel Ridge. Twenty years ago, the two-ship expedition AMORE discovered that the ultraslow seafloor spreading at the Gakkel Ridge cannot be explained by common models and is accompanied by unusually strong hydrothermal activity. We went back to the Gakkel Ridge with two ships and modern deep-sea robots and ocean-bottom seismometers specially designed for operations in sea ice to explore Aurora, the only known hydrothermal vent field in the Arctic Ocean basin. We mapped the vent field and conduct geophysical, biogeochemical and microbiological surveys. In this way, we want to clarify how deep fluids circulate through the lithosphere at ultraslow ridges, what drives the hydrothermal circulation, what energy and chemical fluxes are released into the ocean, and what kind of potentially unique deep-sea life forms evolve in it.
Our field work during ALOIS included most exciting and unpredictable recoveries of 16 moorings and ocean bottom seismometers. Surfacing this instrumentation in almost 100% sea ice cover turned out to be a great challenge especially when instruments came up underneath ice floes. NUI, the Nereid Under Ice vehicle of the Woods Hole Oceanographic Institution, dove down to the wonderworld of hydrothermal field to take samples of the hot fluids, map the vent field and provide stunning video imagery. We also took samples from the hydrothermal plume, filmed the seafloor habitats, and measured the temperatures in the subsurface. We had planned to follow the Gakkel Ridge and search for more hydrothermal fields, but unusually thick ice slowed down our progress to about one mile per hour, such that we turned around to devote time to joint operations with RV Kronprins Haakon at the Aurora vent field.