The objective of WASTE2ROAD is to develop a new generation of cost-effective biofuels from a range of low-cost biogenic residues and waste fractions (contaminated wood, black liquor from pulp and paper industry, and municipal solid organic waste incl. food residues). Through optimisation of European waste recycling logistics and development of efficient low-risk conversion pathways, high overall carbon yields > 45% can be obtained while reducing greenhouse gases emissions > 80 %.
Eleven partners from six European countries cover the whole value chain from waste management and pre-treatment, through subsequent transformation of waste to bio-liquids and intermediate refining processes within existing refineries to testing of the produced biofuels in engine and vehicle for road transport.
Correlations will be established between the quality and properties of diverse waste fractions, the relevant process parameters and final properties of the biofuel's: aiming to provide a unique understanding of the technical aspects related to the whole value chain, as well as to assess and optimize the environmental, economic and social benefits. Throughout the whole value chain development, emphasis will be on risk-mitigation pathways to maximize further exploitation of the results in industrial implementation. Specific attention will be paid to risk management, while establishing connections with stakeholders and relevant standardisation bodies to secure the future exploitation of the project's results.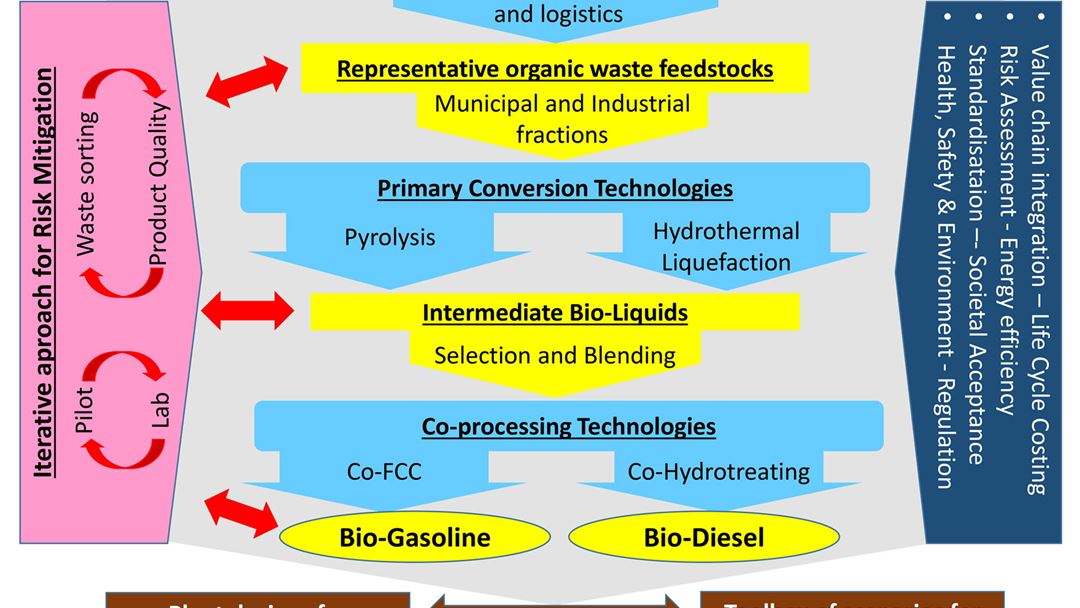 Partners: SINTEF, CNRS, BTG, VTT, PDC, BTL, TUW, OMV, CEA, REG, CRF
Project duration: October 2018 - September 2022
Budget: 4.996.155,00 M€
Contact: Akporiaye, Duncan
Follow us on LinkedIn